Monday, April 16, 2018 -

4:00pm

to

5:30pm
18th Ave. Library, 175 W. 18th, Room 205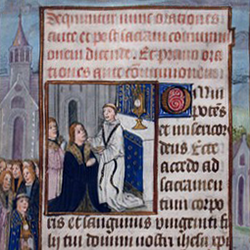 Timothy Dickey, musicologist and reference libarian, presents "Music and Painting in the Sienese Confraternities: Adoramus te, Christe and the Provenance of Domenico di Bartolo's Madonna of Humility (1433)."
Art historians have long recognized Domenico di Bartolo's Madonna of Humility as a crucial link between the Sienese master's style and Florentine innovations. No art-historical methodology, however, had adequately explained the painting's provenance. Music is the neglected key to both its provenance and its deep marriage of Sienese and Florentine liturgical arts. The piece Adoramus te, Christe in Domenico's altarpiece can be identified as a previously undiscovered Sienese lauda sung by the flagellant confraternities. This lauda, furthermore, reflects a rich Florentine tradition of borrowing secular songs for confraternal worship, with potential links to the Florentine work of Niccoló da Perugia. Domenico's Madonna thus proves that Sienese confraternal music mirrored better-known Florentine practices, quickly to be exported to Venice. Further documentary evidence exists which likely places the original painting itself within the orbit of one specific Sienese confraternity, and its place in their annual Corpus Christi processions.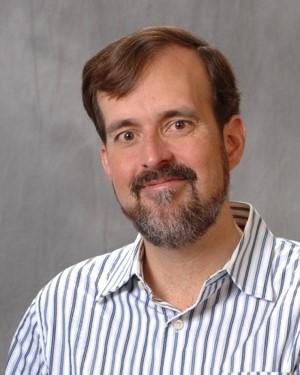 Timothy J. Dickey is a musicologist and reference librarian, holding the PhD in Musicology from Duke University, two master's degrees in choral conducting from Connecticut and Gordon-Conwell Theological Seminary, and the MLIS from Kent State University. His varied research interests include Renaissance music and liturgy, the motet, manuscript studies, the international history of book publication, cataloging standards and emerging technologies.
Dr. Dickey has taught on the faculties of The Ohio State University, the University of Iowa, the University of Cincinnati Conservatory-College of Music and Ohio Wesleyan University, as well as on the Library Science faculties of Kent State University, San José State University, and the University of Washington iSchool, and a term in the Office of Research for OCLC. His publications have appeared in Plainsong and Medieval Music, Explorations in Renaissance Culture and Cambridge's Early Music History, as well as the Journal of the Association for Information Science & Technology, Library Resources & Technical Services, Libri, and Information Technology & Libraries; he has presented at a wide variety of national and international conferences, including AMS National, the Kalamazoo Medieval Conference, the South-Central Renaissance Conference (RSA), the annual meetings of the American Society for Information Science & Technology and the American Library Association, and the University of Wisconsin Library History Seminar. His music research has been awarded a Duke University Dissertation Completion Fellowship and an Advanced International Travel Scholarship, and a University of Iowa Old Gold faculty research fellowship.
---

Lectures in Musicology is co-sponsored by The Ohio State University Libraries.
Lectures are held Mondays at 4 p.m. in the 18th Avenue Library, 175 W. 18th Ave. (Music/Dance Library, second floor, room 205). These events are free and open to the public.
Campus visitors, please use either the Tuttle Park Place Garage or the Ohio Union South Garage. All other garages in the vicinity of the 18th Ave. Library are closed to visitors before 4 p.m.