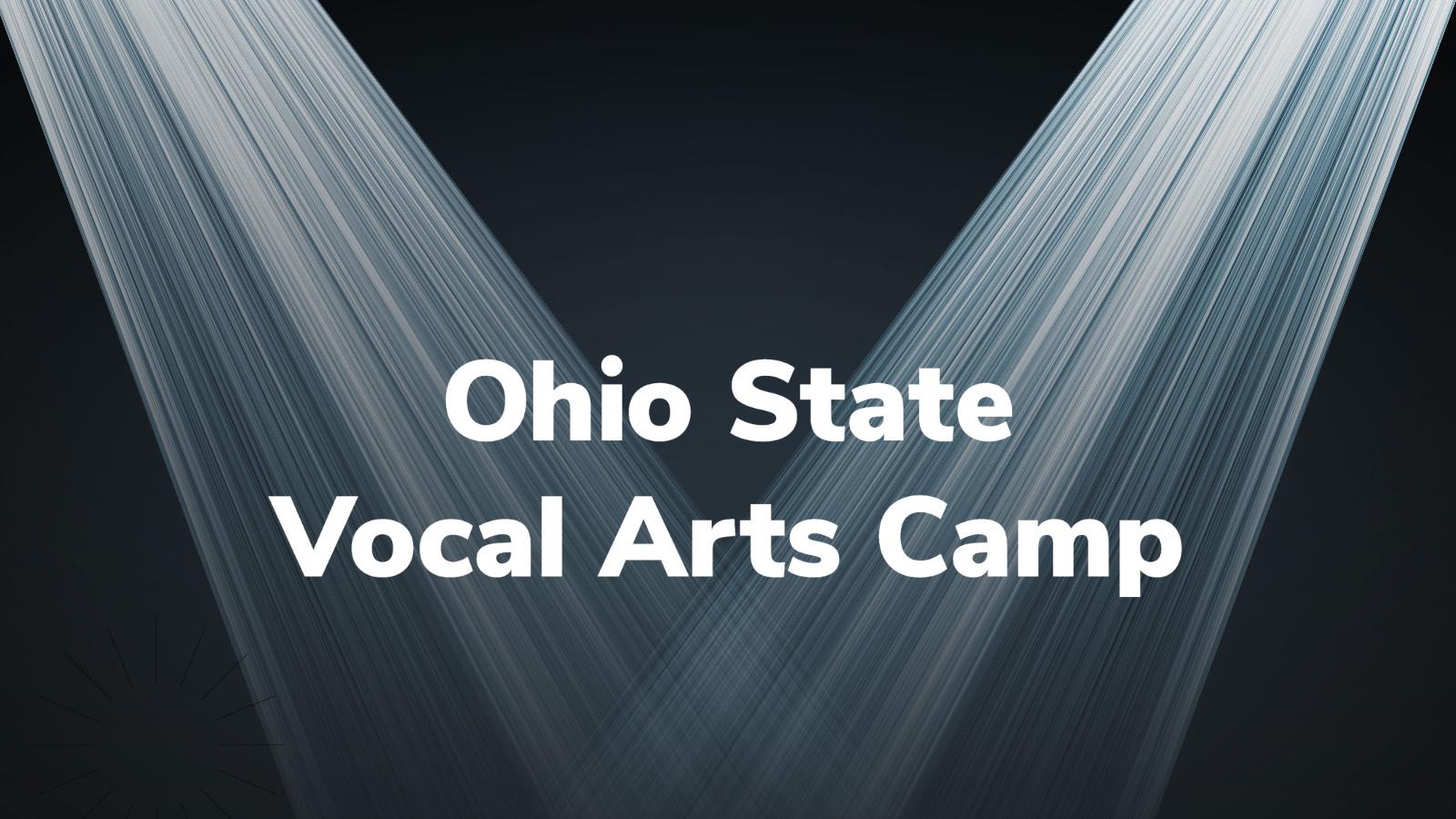 Body
Friday – Sunday, June 9 – 11
Friday–Saturday 9 a.m.–4 p.m.
Sunday 10 a.m.–1 p.m. with a finale performance from 2–3 p.m.

The Vocal Arts Camp is an exciting new offering for 2023. Students will work with members of the voice faculty to enhance their vocal performance abilities through:
One-on-one private lessons 
Classes on auditioning, acting the song, and singing health
Master classes
Ensemble and stage craft work
The program will conclude with a student performance in the beautiful new Timashev Recital Hall;  free and open to the public. 
OHIO STATE VOICE FACULTY
Faculty profiles
---
ELIGIBILITY — For students entering grades 10–12 in the 2023–2024 school year, and 2023 high school graduates.
FEE — $195
Includes instruction and camp T-shirt. Lunch is not included. Attendees will receive details about bringing a packed lunch or purchasing lunch in the dining hall ($12 — credit/debit card only). The group eats together; students are not permitted to go off-campus for lunch. 
MAXIMUM ENROLLMENT — 40
REGISTRATION  — You will be required to make payment via credit card at the time of registration. Shortly after submitting payment, you will receive an email confirming the transaction. 
DEADLINE — Wednesday, May 24, 2023. Registration is closed.
NOTE — The registration/payment form works best on a computer (PC or Mac). MAC USERS — use Chrome, not Safari.
---
Submit a Video
(NOT an audition for camp)
In order to get to know all of our attendees — to select the best music and plan the most meaningful experiences for you — we request that you send a link to a video of you singing a favorite song.
DEADLINE — Wednesday, May 31

Instructions
This can be TikTok-style — a casual video recorded with your phone. It can be with or without accompaniment. It can be you practicing a song you are working on in lessons, or a clip from the video of your school musical or choir concert where you sang a solo. It can be recorded at a voice lesson, in your house or at school. We will accept any recording where we can see and hear you clearly. This is low-key. Have fun with it.
Step 1 — Create your video, or get access to one that already exists.

Step 2 — Post your audition as an UNLISTED VIDEO on YouTube, or upload to a file-sharing platform such as OneDrive or Dropbox.

Step 3 — Send an email, with the link to your video, to Professor Laura Portune at portune.1@osu.edu.

Be sure to include your full name in your email so that we can match it with your registration submission.
NEED HELP? These instructional videos can help with this process:
Uploading videos to YouTube:
https://www.youtube.com/watch?v=klVWGHtRTuE
How to create an Unlisted YouTube video:
https://www.youtube.com/watch?v=JOr7JluzEOM&ab_channel=MN
---
Participation Details
Parents/guardians and participants will receive permission forms via DocuSign shortly after registration is complete. All forms must be returned by the DocuSign deadline in order to participate.
Shortly before the start of the program, a Digital Handbook will be provided. This handbook contains important information for a successful experience. All participants and parents/guardians should read it carefully prior to the start of the program and can refer to it often throughout the week.
Approximately one week before the program, participants and parents/guardians will also receive an email with basic information about what to pack, arrival, parking, check-in and more.
---
Questions?
---
* Background image by Benzoix on Freepik.com