Body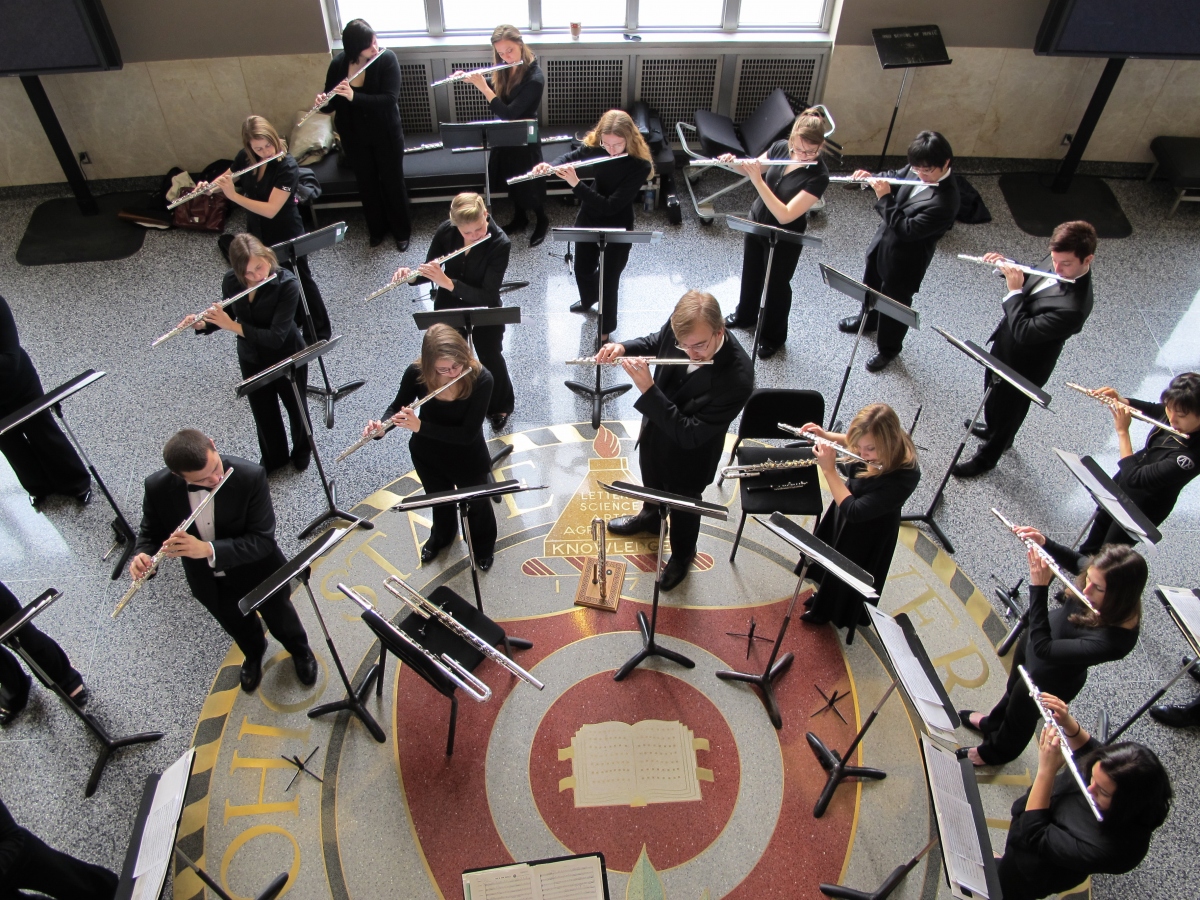 The Ohio State University Flute Studio historically is made up of two master's and two doctoral students, one of whom is the graduate teaching associate. Undergraduate students are primarily music education and/or performance majors. Some students elect to pursue a Bachelor of Arts in music while others decide to minor in music. A double major in music and another program is possible, but usually takes five years.
Each flute major receives one 55-minute lesson with Professor Jones each week. The studio meets as a group on Monday evenings and Tuesdays and Fridays at 11:30 a.m. Studio time provides the opportunity to rehearse The Ohio State University Flute Troupe (pictured) as well as to conduct technique, pedagogy and master classes. Monday night studios are usually in the concert hall where students perform recitals. Students take advantage of this time to perform for their colleagues who then make constructive comments. Performance enhancement topics are also addressed and occasionally the studio recital is opened to the public for a more formal recital. The year opens with every student playing a two-minute solo on the first Monday night studio. The second class is devoted to a two-minute spoken piece. This event is one of the favorites of the class every year.
Each year we host a wide variety of guest artists who give master classes, lessons, and recitals on campus. Recent artists include Carol Wincenc, Lorna McGhee, Demarre McGill, Mark Sparks, Peter Lloyd, Chris Norman, Patti Adams, Alexa Still, Robert Aitken, Jean Ferrandis, Ian Clarke, Karl Kraber, Nancy Hadden, Paula Robison, Greg Patillo, Pablo Salcedo and Renee Siebert.
Graduates of the program are teaching privately, in public schools, colleges and universities, performing in orchestras and military bands, and working for non-profit organizations. Many graduates are serving as committee chairs as volunteer with the National Flute Association and other music organizations. Graduates also continue to perform in community bands, orchestras and flute choirs, volunteering to perform throughout their communities.