Concert Bands • Marching and Athletic Bands
---

Wind Symphony
Conducted by Dr. Russel C. Mikkelson, The Ohio State University Wind Symphony is widely recognized as one of the country's elite wind bands. Its membership comprises the most accomplished brass, woodwind and percussion players in the School of Music.
Committed to the creation of new music for winds, this ensemble has commissioned music by composers including William Bolcom, Aaron Jay Kernis, David Maslanka, Eric Stokes, Dan Welcher, David Gillingham, John Stevens, Donald Crockett, Daniel Godfrey, Charles Rochester Young, Robert Beaser and many others.
The ensemble also provides students the opportunity to interact with guest composers, directors, educators and other leaders in the field. Visitors have included John Corigliano, Lukas Foss, Krzysztof Penderecki, Gunther Schuller, Joseph Schwantner, Jennifer Higdon, Frank Ticheli, Augusta Read Thomas, John Mackey, John Stevens, Steven Bryant, David Gillingham, Jonathan Newman, Roger Cichy and Percy Grainger's biographer John Bird.
Graduates hold positions as professional orchestral musicians, soloists, conductors, members of the Washington-based military bands, university professors, and leaders in music education.


Since 2000 the Wind Symphony has recorded six compact discs including Network (Naxos 2016), Rest (Naxos 2012), Southern Harmony (Naxos 2009), Winds of Nagual (Naxos 2007), Jubilare! (Mark Records 2003), and Sounds, Shapes and Symbols (Mark Records 2001).
The Wind Symphony has performed at the 2003 and 2015 College Band Directors National Association Convention, the 2014 CBDNA North Central Conference, the Ohio Music Educators Association Conference seven times (2001, 2004, 2006, 2008, 2011, 2013 and 2018), with BalletMet Columbus (2003, 2011), and presents numerous performances both on and off campus.
Undergraduate: Music 2204.01 | Graduate: Music 7204.01
Classes meet MWF 1:50–3:55 p.m. | Autumn 2021 in Weigel 174
Symphonic Band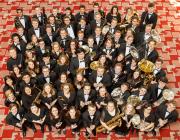 Conducted by Associate Director of Bands Dr. Scott A. Jones, the Symphonic Band has earned an enviable reputation through performances for the College Band Directors National Association, the Ohio Music Education Association, the Midwest International Band and Orchestra Clinic, the Ohio State Contemporary Music Festival, on tour, and through its recordings.
The Symphonic Band is comprised of approximately 65 instrumentalists, most of whom are undergraduate and graduate music majors. A registered Student Organization at Ohio State, the ensemble is led by a Student Board elected from the membership of the ensemble. Membership is open through auditions to all university students.
Symphonic Band performs a minimum of four campus concerts each year, as well as serving the campus community at commencement exercises. Since 1990, the band has premiered more than 20 new compositions, and students have had the opportunity to work with notable conductors and composers such as Frederick Fennell, Frank Ticheli, H. Robert Reynolds, Gunther Schuller, Jennifer Higdon, John P. Paynter, Steven Bryant, David Gillingham, Daniel Bukvich, Nancy Galbraith, Jonathan Newman, Col. Timothy Foley, John Mackey, Elizabeth Green, Roger Cichy, David Maslanka and Warren Benson.
Undergraduate: Music 2204.02 | Graduate: Music 7204.02
Classes meet MWF 1:50–3:55 p.m. | Autumn 2021 in Stadium 161
Collegiate Winds

Collegiate Winds is an ensemble of approximately 60 musicians, both music majors and non-majors, who join together to perform four concerts per year, in addition to an appearance on the annual Music Celebration concert in December.
This ensemble is dedicated to broadening the artistic level and interest of its members while performing music of artistic and historical significance. Students have the opportunity to interact with important composers including recent guests Steven Bryant, John Mackey, Carter Pann and Michael Daugherty. Dr. David Hedgecoth, conductor.
Undergraduate: Music 2204.03 | Graduate: Music 7204.03
Classes meet Tues. and Thur. 7–8:30 p.m. | Autumn 2021 in Weigel 174
University Band

University Band is designed for the non-major who wishes to include music among their campus activities but with limited time commitment or performance demands. The enthusiasm of the band enables its members to achieve excellent musical results while taking a brief break from studies in their major disciplines. The University Band performs four concerts per year, and is conducted by graduate associates.
Undergraduate: Music 2204.04 | Graduate: Music 7204.04
Classes meet Tue. and Thu. 7–8:30 p.m. | Autumn 2021 in Stadium 161
Marching and Athletic Bands

Marching Band

The Ohio State University Marching Band consists of 228 brass and percussion instrumentalists who must try out every year. The Marching Band meets during the autumn semester (beginning in August, prior to the start of classes), and it performs at all home football games, select away games, post-season games and other athletic and community events. Learn more about the tryout process for the Marching Band.
Athletic Bands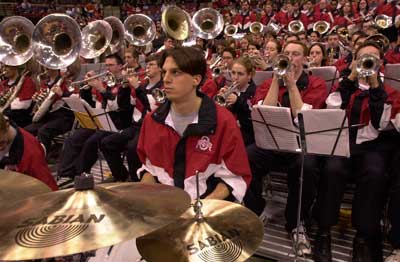 The athletic bands offer students the opportunity to perform both in concert and at athletic events, including men's and women's basketball, hockey, wrestling and the spring football game in Ohio Stadium. A large quantity of pop music is performed.
Instrumentation includes brass, woodwinds and percussion for these open-enrollment ensembles. Selected band members participate in trips, including post-season tournament play. These bands are composed of students representing almost every college in the university.
Questions? Visit Marching and Athletic Bands, email osumb@osu.edu or call 614-292-2598.