Welcome to the Ohio State Oboe Studio!
Greetings on behalf of the Ohio State oboe studio! The Buckeye Oboes are more than a group of classmates, they are a tight-knit community taught to support one another and help each other grow as both musicians and people. Please explore our pages to learn more about the studio, professor, how to apply/audition, and locate pedagogical resources.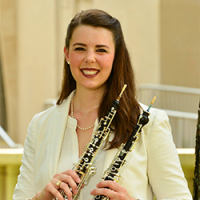 GO BUCKS!
Abby Yeakle Held
Associated Faculty, oboe
Subscribe to our YouTube channel to hear Ohio State students performing in a variety of ensembles and programs across the School of Music. Follow the School of Music on Facebook, Twitter and Instagram.
Be a Buckeye Oboe for a Day
Your visit can include a prospective student meeting, complimentary lesson with Dr. Held, lunch with members of the oboe studio, class observations, sitting in on an ensemble, and tour of the music facilities. Request a visit.
Connect with our undergraduate admissions coordinator, Tanya Sparks, at sparks.348@osu.edu.
Stay up to date! Receive notices about events for future students by submitting our Future Student Information form. We will not share your contact information.
Event Opportunities
* Not all events occur each year. All events subject to change. Visit music.osu.edu/outreach. 
Visit our pages
About the Studio  |  Meet the Professor  |  Apply and Audition  |  Pedagogical Resources