Body
Friday, April 14, 2023
9:30 a.m. – 3 p.m.  •  Timashev Family Music Building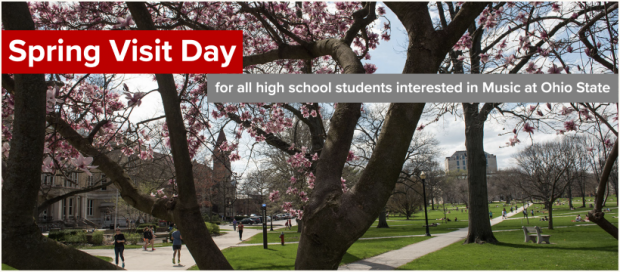 Program Overview
High school musicians (and parents) who are curious about majoring in music at Ohio State are invited to meet School of Music faculty and students, observe ensembles rehearsals and learn about the admissions process, scholarships and financial aid. Attendees will also learn about the double-major options, tips on auditioning, preparing for college music theory, musical opportunities for students in other majors, and have the opportunity to attend a special session on our popular music education degree program.
A visit to campus is the best way to experience the School of Music at Ohio State. This in-person event will allow participants to view our facilities and observe classes or rehearsals, in addition to attending informational sessions.
Registration
Spring Visit Day is a free event, but registration is required.
REGISTRATION DEADLINE — Monday, April 10
---
Visit the School of Music
---
Questions?
Contact Tanya Sparks, School of Music Admissions Coordinator, at sparks.348@osu.edu or 614-688-0372.