with Professor Katherine Borst Jones and guests
Monday–Wednesday, June 15–17, 2020
9 a.m.–noon
(Eastern Time — GMT/UTC — 4h)
---

Thank you for your interest in the 2020 Virtual Flute Workshop. Registration is closed.
---

The Ohio State University announced that all courses will be delivered through virtual modes for the Summer 2020 term. Ohio State's highest priority is the health and well-being of our community, and the university is following public health guidance in all decisions.
In response to these guidelines, we are excited to offer this virtual workshop for the 2020 season.
Join Professor Katherine Borst Jones for a Virtual Ohio State University Flute Workshop. Students will receive a private lesson with Professor Jones as well as a morning warm-up, master classes and other flute related activities for three hours each morning. Flute and music fundamentals will be taught in a positive atmosphere online. Join us!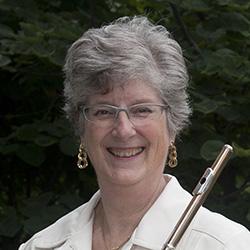 Program director:
Professor Katherine Borst Jones

Daily Schedule
Eastern Time – GMT/UTC – 4h


9 a.m. — Group warm-up with Professor Jones


10 a.m. — Session on practicing, audition preparation, performance enhancements and musical careers for flutists (special guests)


11 a.m. — Master classes on repertoire


Afternoons — scheduled private lessons
ELIGIBILITY — For students entering grades 9 – 12 in the 2020 – 2021 school year, and 2020 high school graduates.
FEE — $125
DEADLINE — Friday, June 12, 2020
Questions?