June 14 — 18, 2020
---
Now entering its 35th year, the five-day Flute Workshop provides high school flutists with a unique opportunity to develop as musicians; engage with peers from around the state and region; work with Ohio State faculty, flute students and alumni; and enjoy the college experience on campus. Activities include private lessons, master classes, chamber ensemble participation and more!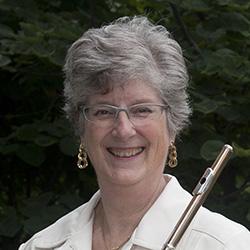 Program director: Professor Katherine Borst Jones
Program Highlights
Private lessons
Master classes
Flute choir
Daily coached chamber ensembles
Performance opportunities
Jazz and theory classes
Eligibility: For students entering grades 9 – 12 in the 2020 – 2021 school year, as well as 2020 high school graduates.
Program fee – commuter: $395 — Tuition and T-shirt only. No housing or meals.
Program fee – resident: $495 — Tuition, T-shirt and housing with three meals per day.
Watch for 2020 updates here.
---
Daily Schedule Overview — A detailed daily schedule will be provided approximately three weeks prior to the start of the program.
Sunday — 1 p.m. to approx. 9:30 p.m.
Monday–Wednesday — 8:30 a.m. to approx. 9:30 p.m.
Thursday — 8:15 a.m. to approx. 4 p.m.
Concerts—All performances are free and open to the public.
Sunday at 8 p.m. — Faculty Recital: Katherine Borst Jones and Guests
Monday — Flute Workshop Counselor Recital
Wednesday — Solo Night
Thursday, 1:30–3 p.m. — Closing Concert
---
Registration Information
Full registration deadline: May 20
Limited registration deadline: June 10
---
Questions?
---
[pdf]—Some links on this page are to Adobe .pdf files requiring Adobe Reader. If you need them in a more accessible format, contact us.