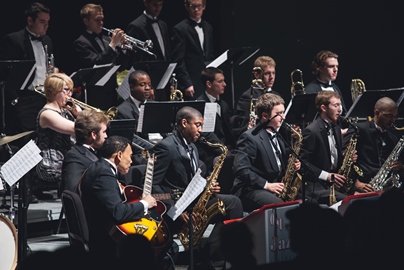 The Jazz Studies area provides performance opportunities in two big bands, a show band and six combos.
The jazz faculty are devoted to rehearsing, arranging, and performing all styles of jazz literature.
Big bands include the University Jazz Ensemble and the Jazz Lab Ensemble.
Combos include the Art Blakey, Jam Session, Fusion, Hard Bop, New Orleans Traditional Swing and Latin Jazz.
The Ohio Show Band is a contemporary music ensemble that performs tour-quality shows with musical styles from R&B, gospel, and pop to neo soul, contemporary Christian and fusion, while incorporating vocalists, automated lighting, production sequences, dance, video sync and the latest computer-based production software.
Auditions
Auditions are required for participation in any big band or combo and for applied instruction. Music majors and non-majors are welcome to join!
Visit Jazz Audition Information for the audition schedule, musical excerpts for your instrument(s), and sign-up requirements.
Questions?
For further information please contact Professor Shawn Wallace, area head of Jazz Studies, at wallace.376@osu.edu, 614-292-2678, 407 Hughes Hall.