July 7 – 13, 2019
Celebrating its 34th year
Designed for the string specialist; orchestra director; secondary band, choir and general music teacher.
Top Ten Reasons to Attend
10. Reading sessions of the tried-and-true and latest releases
9. Labs to refine secondary instrument skills, bowing styles, chamber music, conducting, technology, fiddling and improvisation
8. Daily instrument repair with Paul Bartel
7. Heterogeneous teaching lab with Soo Han, Charles Laux and Matt Radspinner
6. Building a Successful High School Orchestra with Bryan Buffaloe
5. Teaching in Urban School Orchestras with Natalie Colbert
4. Recruitment, Retention, Summer Camps and More with Brian Cole
3. Bringing the Full Orchestra Back to the Schools with Sandra Dackow
2. Break the Fear of Improvising with Mark Wood and David Wong
1. On-campus fiddling performance with Bob Phillips!
Testimonials from 2017 Workshop Participants
► "The OSU String Workshop was an amazing educational experience. I now have a plethora of new teaching strategies and ideas that I am excited to implement in my classroom."
► "As an oboist teaching grades 6–12, the OSU String Teacher Workshop came highly recommended by many of my orchestra colleagues. I had a great time attending the sessions, meeting/networking with new people and having an opportunity to play tons of outstanding string literature. Everyone was extremely helpful and welcoming to this oboist turned string player!"
► "This has truly been the most informative, hands-on and intense conference/workshop that I have been to. I look forward to returning next year and bringing many of my Texas colleagues with me."
► "If one were to ask anyone close to me what I have been looking forward to most this summer, their response would be this conference. I just successfully completed my 10th year of teaching music, and this was the most action-packed and fulfilling week!"
► "This conference has been everything and more for me. I am really eager to go back in September with all the new concepts and strategies that I learned!"
► "Every time that I attend the OSU String Teacher Workshop, I gain new insights and strategies that improve my teaching ability. I return to my classroom motivated, refreshed and excited. I remember what first inspired me to become a string teacher and fall in love with our profession all over again."
► "I do not think I could have gotten this experience anywhere else. It was exactly what I needed. I will cherish this week."
► "I learned so much to take back with me to my elementary string kids. I will definitely be back!"
► "I have attended this conference several times through the years and I still come away every time with so many new ideas, strategies and affirmations!"
► "This was such an incredible learning experience. I cannot even begin to list how much I learned!"
► "This has been the best educational experience of my teaching career!"
► "This was the best professional development I have ever attended!"
---
The Loft Violin Shop | Stanton's Sheet Music | The Baroque Violin Shop |
Rettig Music | Hal Leonard | Mark Wood Music | Alfred Music | Tempo Press
Workshop held in cooperation with the American String Teachers Association (ASTA).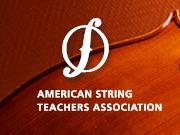 Ohio State receives ASTA Institutional Leadership Award
---
Contact
For questions about workshop curriculum, contact the workshop director, Robert Gillespie, at gillespie.5@osu.edu 614-292-2336.
---
[pdf]—Some links in these pages are to .pdf files requiring Adobe Reader. If you need them in a more accessible format, contact us.