July 7 – 13, 2019
Celebrating 34 years!

Spend a week with the biggest names in the profession!
Robert Gillespie • Soon Hee Newbold • Doug Spata • Mark Wood • Mark Laycock • Brian Cole • Brian Coatney • Natalie Colbert • Barry Green • Pamela Tellejohn Hayes • Charles Laux • Cory Zilisch

For the string specialist and secondary band, choir or general music teacher
Discover new materials • Explore different methods and acquire new skills • Network with other music educators • Gain fresh insights • Recapture your passion • Inspire and lead!
Pedagogy for Teaching Beginning and Advanced School Orchestras • Rehearsal Skills for All Grade Levels of School Orchestra Music • Coaching Chamber Music • 9 Reading Sessions • Instrument Repair Sessions • Recruitment and Retention • Integrating Technology • Assessment • Classroom Management • Teaching Vibrato • The Inner Game of Music • Improvisation • Secondary Instrument Technique Classes • Conducting • Labs for the Non-String Player • Campus Performance with Soon Hee Newbold
Registration will open March 1, 2019

Academic credit will be available. Watch this page for exciting 2019 updates!
---
Testimonials from previous workshop participants:
► "The OSU String Workshop was an amazing educational experience. I now have a plethora of new teaching strategies and ideas that I am excited to implement in my classroom."
► "As an oboist teaching grades 6–12, the OSU String Teacher Workshop came highly recommended by many of my orchestra colleagues. I had a great time attending the sessions, meeting/networking with new people and having an opportunity to play tons of outstanding string literature. Everyone was extremely helpful and welcoming to this oboist turned string player!"
► "This has truly been the most informative, hands-on and intense conference/workshop that I have been to. I look forward to returning next year and bringing many of my Texas colleagues with me."
► "If one were to ask anyone close to me what I have been looking forward to most this summer, their response would be this conference. I just successfully completed my 10th year of teaching music, and this was the most action-packed and fulfilling week!"
► "This conference has been everything and more for me. I am really eager to go back in September with all the new concepts and strategies that I learned!"
► "Every time that I attend the OSU String Teacher Workshop, I gain new insights and strategies that improve my teaching ability. I return to my classroom motivated, refreshed and excited. I remember what first inspired me to become a string teacher and fall in love with our profession all over again."
► "I do not think I could have gotten this experience anywhere else. It was exactly what I needed. I will cherish this week."
► "I learned so much to take back with me to my elementary string kids. I will definitely be back!"
► "I have attended this conference several times through the years and I still come away every time with so many new ideas, strategies and affirmations!"
► "This was such an incredible learning experience. I cannot even begin to list how much I learned!"
► "This has been the best educational experience of my teaching career!"
► "This was the best professional development I have ever attended!"
---
The Loft Violin Shop | Stanton's Sheet Music | The Baroque Violin Shop |
Rettig Music | Hal Leonard | Mark Wood Music | Alfred Music | Tempo Press
Workshop held in cooperation with the American String Teachers Association (ASTA).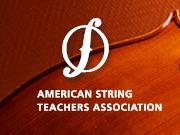 Ohio State receives ASTA Institutional Leadership Award
---
Contact
For questions about workshop curriculum, contact the workshop director, Robert Gillespie, at gillespie.5@osu.edu 614-292-2336.
---
[pdf]—Some links in these pages are to .pdf files requiring Adobe Reader. If you need them in a more accessible format, contact us.