Introduction
Singing Health Specialization at The Ohio State University is an interdisciplinary program with an emphasis on practical healing and health maintenance for the professional voice. The Singing Health Specialization equips voice specialists to play an active role as assistant to doctors, therapists and teachers, and as liaison in their work with clients who are professional voice users, including singers, actors, teachers and public speakers.
Singing Health Specialization is an invaluable resource for the medical, academic, and scientific communities in dealing with voice care, maintenance and training for a wide variety of professional voice users.
---
Graduate Level Training in Singing Health
The Singing Health Specialization (SHS) program is a 16 minimum credit hour curriculum beyond the master's degree, or within the Doctor of Musical Arts or the PhD in Speech and Hearing Science. Courses are drawn from existing curricula in the sponsoring units, including a core of five required courses (11 credits). At least 5 additional credits from Music, and Speech and Hearing Science are selected in consultation with program advisors, based on degree plans, the student's background, and particular needs for competency.
Comprehensive Final Examination — Each student must successfully pass a written and oral "practical" examination administered by the Singing Health Specialization Coordinating Committee.
For curriculum see Master of Arts/Vocal Pedagogy.
---
The Facility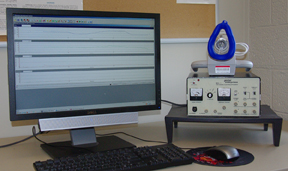 The Ohio State Teaching and Research Laboratory Suite is a unique facility devoted to the study, training, and care of the professional voice. It is a collaborative endeavor of the School of Music, the Department of Otolaryngology of the School of Medicine, and the Department of Speech and Hearing Science and serves multiple interrelated activities of the three disciplines.
An important component of the facility is the Helen Swank Research and Teaching Lab. Housing classes in voice anatomy and function, voice health care and maintenance, voice science and research, and the history, tradition, and practice of singing pedagogy, the lab provides a focused learning center for Ohio State's interdisciplinary Specialization in Singing Health and programs in voice pedagogy.
In addition to serving the needs of Ohio State students, these state-of-the-art facilities provide a center for research and teaching for visiting scholars and pedagogues. The Swank Lab also hosts workshops and seminars for students, voice care professionals, and the general public, including the biannual Ohio State University Voice Forum.
---
Admission
The Singing Health Specialization program is small and selective to provide maximum individual training and experience. Interested applicants must be admitted to a graduate program in voice or in Speech and Hearing Science at The Ohio State University.
To begin the admissions process, visit Graduate Admissions — How to Apply.
Questions? Contact mus-grad@osu.edu.