Brass, Woodwinds and Percussion
Katherine Borst Jones, area head
BWP Faculty List
Strings
Mark Rudoff, area head
Strings Faculty List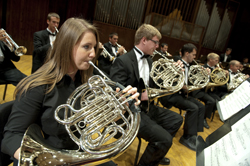 At Ohio State, students majoring in one of the orchestral instruments are guided through a rigorous course of study in technique, performance practice, pedagogy and repertoire development by our artist faculty. Performance majors may earn the BM, MM and DMA degrees, preparing them for employment in orchestras, chamber groups and commercial music. Education majors may earn the BME, MME or PhD to prepare them for performance as well as teaching in the schools, private teaching and teaching in higher education.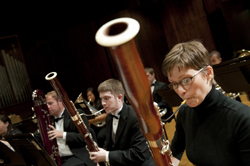 In addition to the required curricular studies, there are a number of elective courses available, such as the health-focused Alexander Technique class and a very practical Instrument Repair course. For reed players, reed-making and reed research is ongoing in a dedicated reed-making facility.
Our full-time faculty members maintain active performance careers. They bring experience from a number of national symphonies and bands, and are performing members of the Columbus Symphony Orchestra, ProMusica Chamber Orchestra, Cincinnati Symphony Orchestra, and the New Sousa Band, to name a few. They are leaders in instrument societies such as the National Flute Association and the Percussive Arts Society International Conference and in organizations dedicated to music education such as the American String Teachers Association and National Association for Music Education.
All students are challenged to perform in the school's large performing Ensembles as well as in the numerous small ensembles of varying combinations, from studio choirs to jazz combos and from early music ensembles to Composer's Workshop. Student chamber music performance is a vital component of study and Ohio State groups have performed in numerous conferences and competitions. For brass players, the renowned Ohio State Marching Band (TBDBITL) also provides musical and leadership opportunities for students seeking this unique challenge.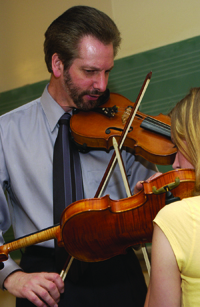 The Ohio State string education program is nationally recognized and highly respected. It offers pedagogy training for students who are seeking careers in the schools as well as those who will teach privately or at the college level, all within the context of a major research university.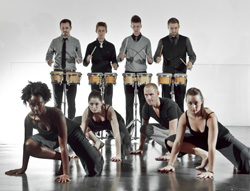 The Percussion Studio is designed to foster the development of a student's musicianship, technical proficiency and versatility in all areas of percussion with an integrated curriculum consisting of study in concert, world, jazz and contemporary percussion techniques and styles. The Percussion Ensemble, an active chamber group comprising the entire studio, has performed at the 2008 and 2005 Percussive Arts Society International Conventions, as well as the Midwest Clinic and other venues. The percussion area is dedicated to multi-disciplinary performance experiences, including collaborations with dance, theater, art and multimedia such as the annual Drums Downtown event. Students are also offered opportunities to explore the traditions of rudimental drumming through participation in the OSU Fife and Drum Ensemble. In addition to individual instruction, group seminars are presented on a diverse number of topics including hand drumming, drum set, equipment repair, ragtime xylophone and professional development. See special information available for Jazz Percussion.
Graduates of the Ohio State School of Music have embarked upon exciting endeavors world-wide. They are teaching in colleges and universities and performing in major ensembles including military bands, chamber ensembles and orchestras. Several have won Fulbright Scholarships and many have taken top prizes in performance competitions. Those who have earned graduate degrees have applied their experiences as graduate teaching associates to the demands of the job world in building successful careers.