Body
At home … the music of Andrew Boysen, Jr. (2016)
The Ohio State University Symphonic Band • Scott A. Jones, conductor
The Ohio State University Women's Glee Club • Kristina MacMullen, conductor
The Ohio State University Men's Glee Club • Robert Ward, conductor
Regan E. Tackett, soprano
Mark Thress, tenor
 
is the first full-length compact disc recording by The Ohio State University Symphonic Band. This recording project represents a rich collaborative achievement. The enthusiasm for the project within our Music, Media and Enterprise program enabled us to record, edit, master and produce the entire recording on campus. The willingness of the conductors and musicians of our Women's and Men's Glee Clubs facilitated the inclusion of Symphony No. 8, and provided the memorable experience of more than 200 musicians engaged in the creation of musical art. The patience and cooperation of our concert audiences to facilitate the inclusion of live recordings was of tremendous assistance. As a project that spanned an entire academic year, the cooperation of the entire School of Music community in facilitating the five brief recording sessions was critical to its success. And the commitment of the musicians to honor the spirit of each composition and the process of commercial recording — a first for each of them — was pivotal. There is much for which to be thankful as this project comes to its completion.  At home …
—Scott A. Jones, conductor
Track samples and purchasing information can be found at CDBaby.com.
Top of page
---
NETWORK (Naxos 2016)
The Ohio State University Wind Symphony • Russel C. Mikkelson, conductor

— Steven Bryant Concerto for Wind Ensemble

Network — Kevin Puts

The Sword in the Stone — Benjamin Britten

Um Mitternacht — Gustav Mahler
Katherine Rohrer, mezzo-soprano

Network is available from the band office or from any online retailer including Amazon, Barnes & Noble, iTunes and others. Digital downloads will also be available through the online retailers.
See this on NAXOS music
Top of page
---
REST (Naxos 2012)
The Ohio State University Wind Symphony • Russel C. Mikkelson, conductor
Fugue a la Gigue — J. S. Bach; arr. Gustav Holst (audio clip)
Vigil — Michael Gilbertson (audio clip)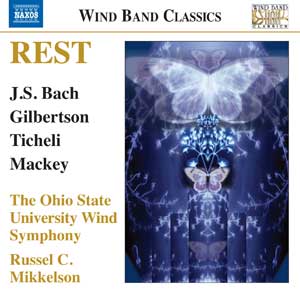 Rest — Frank Ticheli (audio clip 1) (audio clip 2)
Symphony No. 1 — Frank Ticheli; transcribed by Gary Green
Asphalt Cocktail — John Mackey (audio clip)
See this on NAXOS music
Top of page
---
Southern Harmony (Naxos 2009)
Wind Symphony • Russel C. Mikkelson
Colas Breugnon: Overture — Dmitry Borisovich Kabalevsky (arr. D. Hunsberger for wind band) (1936/1968) [4:46] (audio clip)
Symphony in Three Movements (2005–06) — John Stevens (b. 1951) [24:24]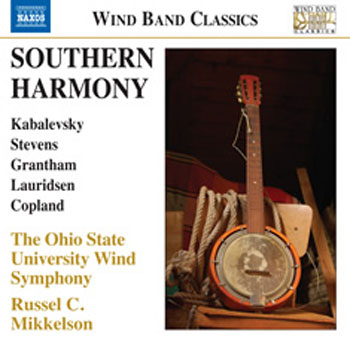 Southern Harmony (1998) — Donald Grantham (b. 1947) [13:11]
O Magnum Mysterium — Morten Lauridsen (b. 1943), arr. H.R. Reynolds for wind band (2003) [6:14] (audio clip)
El salón México — Morten Lauridsen (b. 1943), arr. E. Svanoe for wind band (1936/2008) [11:46]
(audio clip)
See this on NAXOS music
Top of page
---
Winds of Nagual (Naxos 2006)
Wind Symphony • Russel C. Mikkelson
Serenade, Op. 22 * — Antonín Dvorák, arr. Russel C. Mikkelson [27:44]
No Shadow of Turning * — David Gillingham [9:48] (audio clip)
Winds of Nagual — Michael Colgrass [25:15]
A Musical Fable on the Writings of Carlos Castaneda
Flight of the Bumblebee — Nikolay Rimsky-Korsakov [1:24] (audio clip)
See this on NAXOS music
* World premiere recordings
Top of page
---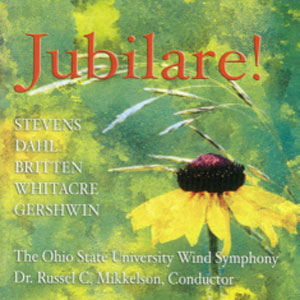 Jubilare! (Mark Records, 2003)
Wind Symphony • Russel C. Mikkelson
Jubilare! — John Stevens [5:58] (audio clip)
Sinfonietta — Ingolf Dahl
The Courtly Dances from Gloriana, Op. 53 — Benjamin Britten, arr. Jan Bach [9:31]
(audio clip 1) (audio clip 2)
October — Eric Whitacre [7:59] (audio clip)
Richard L. Blatti, guest conductor
Rhapsody in Blue — George Gershwin; setting by Donald Hunsberger [17:27] (audio clip)
Caroline Hong, piano
Top of page
---
Sounds, Shapes and Symbols (Mark 2000)
Wind Symphony • Russel C. Mikkelson
Overture to Candide — Leonard Bernstein, trans. Clare Grundman (audio clip)
Sounds, Shapes and Symbols: Four Movements for Band — Leslie Bassett (audio clip)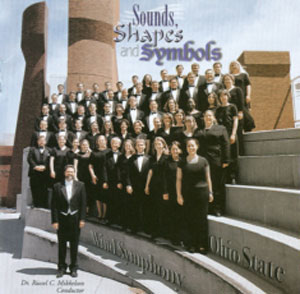 Gazebo Dances — John Corigliano (audio clip)
Overture | Waltz | Adagio | Tarantella
Colonial Song — Percy Aldridge Grainger, ed. Mark Rogers (audio clip)
Symphony No. 4 — David Maslanka (audio clip)
Top of page