Ensemble Update for Academic Year 2020–2021

The Ohio State University orchestras, choirs and bands are committed to providing meaningful educational and performance experiences amidst the COVID-19 pandemic. Whether instruction is online, in person/socially distanced, or a hybrid, the conducting and studio faculty continue to creatively plan instruction following state and university guidelines for student safety, while simultaneously preparing students for their professional life in music.
We will post updates to the following content as it becomes available.
Audition information will be posted in mid-July, if possible.
Ohio State Symphony Orchestra
Symphony Orchestra auditions required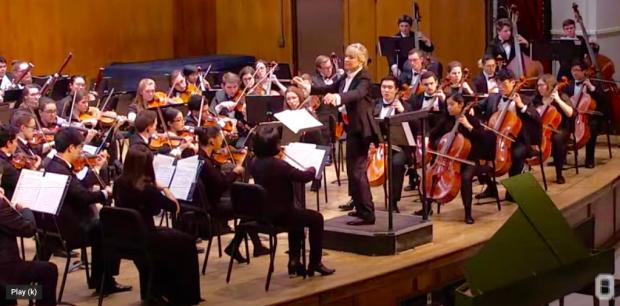 For over a century, the Ohio State Symphony Orchestra has been the premier orchestral ensemble on campus.
For School of Music graduate and undergraduate students — as well as accomplished non-major instrumentalists — the Symphony Orchestra offers a professional-level symphonic experience and the fellowship of young artists with a commitment to musical excellence.
Over its annual six-concert season, the students in the Symphony work with a broad range of repertoire and support the School's major choral, opera and lyric theatre productions. Over the past few seasons, the Ohio State Symphony audiences have heard performances of symphonies by Beethoven, Brahms, Sibelius, Tchaikovsky and Shostakovich; choral works of Verdi and Brahms; and premières of works by School of Music composition faculty.
Hear recordings of performance works by the Ohio State Symphony Orchestra.
Visit Symphony Orchestra Auditions.
---
Orchestra for Non-Majors and for
Music Majors playing a Secondary Instrument

(No audition required)

The School of Music currently offers the Ohio State Community Orchestra, an opportunity for non-music majors who are interested in furthering their musical development, as well as making new friends and experiencing the artistry of performing in a collegiate ensemble.
Auditions for membership are not required. Information about optional auditions for principal seating will be provided at the first rehearsal of the semester. The orchestra is also open to music majors playing a secondary instrument who have previous performance experience on the instrument.
Visit Orchestra for Non-Majors.