The Ohio State University
Friday, Jan. 18 – Sunday, Jan. 20, 2019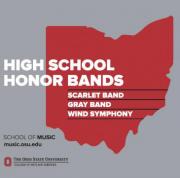 ---
One of the longest-running and finest events of its kind, this annual offering welcomes students in grades 9 – 12 to campus. Two hundred fifty (250) outstanding musicians, selected from director nominations, will be placed by on-campus audition into one of three bands: Honors Wind Symphony, Scarlet Symphonic Band and Gray Symphonic Band.
All bands will perform on Sunday afternoon in Weigel Auditorium. The concert is free and open to the public.
Band directors: the online nomination portal is now closed.
Students, parents and band directors will be notified of nominees' status on or before Friday, November 9, 2018.
---
What to Expect
Join other advanced high school musicians from around the state and beyond for an exciting weekend of concerts and high-level music making. Rehearsals will culminate in a concert of challenging and rewarding repertoire conducted by The Ohio State University band faculty.
Participants will also enjoy:
Master classes by School of Music faculty
An opening concert by The Ohio State University Wind Symphony
Cost is $230 (resident: 2 students/room, 1 per bed; 2-night hotel stay) or $95 (commuter: no hotel stay), and includes:
Breakfast each day and Saturday dinner (residents); Saturday dinner (commuters)
Hotel
Shuttle bus
Honor Band T-shirt
Recording of Honor Band concert
All instruction
---
Required Forms and Payment

Once the student has received notification of selection to the Honor Band, they must complete the following steps.
STEP ONE — Required forms. Parents or guardians are required to print out, complete, sign and send the following four forms:
Mail the completed and signed forms to the address above no later than FRIDAY, NOV. 30, or scan and email them to the administrative associate at HSHonorBand@osu.edu.
STEP TWO — Payment is due upon notice of acceptance. Deadline: Friday, Dec. 14, 2018
Pay the participation fee online with a credit card at the School of Music Store. You will then see a "Checkout complete" screen acknowledging that your payment is in process, and an order number. Payment must be made by FRIDAY, DEC. 14. You will receive an email confirmation within moments of submitting payment.

If you choose to pay with a check or money order (made payable to "The Ohio State University"), send payment to the School of Music at the address below. Do not send cash. Indicate "HS Honor Band" on the memo line of the check.
High School Honor Band
c/o Administrative Associate
The Ohio State University School of Music
110 Weigel Hall
1866 College Rd.
Columbus, OH 43210
You will receive confirmation via email within 7 – 10 business days.
You will receive a welcome email with further instructions about program attendance within the next few weeks.
---
Tentative Honor Band Schedule
Honor Band Weekend includes THREE bands.
The three schedules will vary slightly throughout the weekend.
Honors Wind Symphony (WS) | Scarlet Symphonic Band (SB) | Gray Symphonic Band (GB)
Friday
2 p.m.—Registration
3 – 7 p.m.—Band placement auditions
7:30 p.m.—Ohio State University Wind Symphony Concert in Weigel Auditorium
8 p.m.—Band placement announcements
8:30 – 10 p.m.—Rehearsal #1
10:15 p.m.—Buses depart for hotel
11 p.m.—Lights out
Saturday
7 a.m.—Breakfast at hotel
8 a.m.—Buses depart for School of Music
8:30 – 11:30 a.m.—Rehearsal #2
The three Honor Bands will follow slightly different rehearsal, master class, break and dinner schedules Saturday afternoon
11:30 – 1 p.m.—Lunch
1 – 5 p.m.—Rehearsal #3 | Master classes with School of Music faculty | Snack break | Rehearsal #4
5 – 7 p.m.—Dinner, on varying schedules | Buses return to Weigel Hall
6 – 9 p.m.—Rehearsal #5, on varying schedules
9 p.m.—Buses depart for hotel
9:15 – 11 p.m.—Activities / Relax
11 p.m.—Lights out
Sunday
The three Honor Bands will follow slightly different rehearsal, lunch and concert schedules Sunday afternoon
7 a.m.—Breakfast at hotel
8 a.m.—Buses depart for School of Music
8:30 – 11 a.m.—Rehearsal #6
11 a.m. – 1:30 p.m.—Lunch
1:30 p.m.—Honors Scarlet Symphonic Band Concert
2:15 p.m.—Honors Gray Symphonic Band Concert
3 p.m.—Honors Wind Symphony Concert
We are proud that High School Honor Band Weekend continues to be an experience in which you and your students find value, and we appreciate your continued support of this event.
---
Additional Resources
---
[pdf]—Some links on this page are to Adobe .pdf files requiring Adobe Reader. If you need them in a more accessible format, contact us.