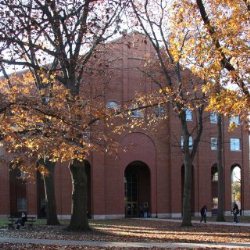 Lecture Series
Lectures in Musicology is co-sponsored by The Ohio State University Libraries.
Lectures will begin at 4 p.m. in the 18th Avenue Library (second floor, Music/Dance Library, Room 205), 175 West 18th Ave., unless otherwise noted. These events are FREE and open to the public.
Campus visitors, please use the Tuttle Park Place Garage or the Ohio Union South Garage. All other garages in the vicinity of the 18th Ave. Library are closed to visitors before 4 p.m.
---
Spring 2019
Abstracts and Speakers

February 4 • "Maybe If I'd Stayed": Appalachian Outmigration, Narratives of Loss, and Nate May's Dust in the Bottomland. Travis Stimeling, West Virginia University. This lecture is co-sponsored by University Libraries and the Center for Folklore Studies.
THE WILLIAM A. HAMMOND LECTURE ON THE AMERICAN TRADITION
February 11 • 4:30 p.m. • 177 Weigel Hall
In a Woman's Voice: Musical Readings by Women Composers, a lecture-recital. Marian Wilson Kimber and Natalie Landowski. This lecture, funded by the College, is sponsored by The William A. Hammond Lecture on the American Tradition.
February 25 • Distant Reading as Process: On the Use (and Misuse) of Corpus Studies. Daniel Shanahan, theory/music cognition, The Ohio State University School of Music.
March 4 • Mahler's Symphonic Modelings of Death. Arved Ashby, musicology, The Ohio State University.
March 18 • How Does Music Feel? Tactile Listening from Sound Art to Live Performance. Ivan Raykoff, Eugene Lang College for Liberal Arts at The New School, New York.
April 1 • Forgetting Out Loud: Musical Flag Convoys and Affective Non-Memorials of Violence at Croatian Weddings. Ian MacMillen, Oberlin College & Conservatory.
April 15 • How Does Music Change our Experience of Time and Space? Yong Jeon Cheong, doctoral candidate in cognitive ethnomusicology, The Ohio State University.
See also Reprise Lectures in Music, offered on Wednesdays during spring semester.
---
Autumn 2018 Series