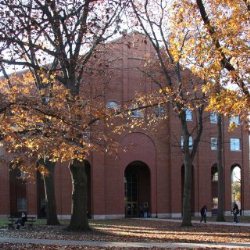 Lecture Series

Lectures in Musicology is co-sponsored by The Ohio State University Libraries.
Lectures will begin at 4 p.m. in the 18th Avenue Library (second floor, Music/Dance Library, Room 205), 175 West 18th Ave., unless otherwise noted. These events are FREE and open to the public.
Campus visitors, please use the Tuttle Park Place Garage or the Ohio Union South Garage. All other garages in the vicinity of the 18th Ave. Library are closed to visitors before 4 p.m.
---
Autumn 2019
Abstracts and Speakers

September 23
Blues In the Black Pacific: Afro-Indigenous Alliance, American Empire, and Global Music History. Gabriel Solis, University of Illinois.
September 30
Listening as a Contact Zone in the Jesuit Relations: A Global History Approach. Olivia Bloechl, University of Pittsburgh.
October 7
Dance Folklore, Stages and Politics: Slovenian Contexts. Rebeka Kunej, Research Centre of the Slovenian Academy of Sciences and Arts.
This lecture is co-sponsored by the Slovene Research Initiative.
Tuesday, October 15 • 4–6 p.m. • Martin Luther King Jr. Room, Hale Black Cultural Center
Four Women: The Diasporic Art of Josette Bushell-Mingo. Josette Bushell-Mingo, Stockholm University of the Arts.
October 21
Mormons, Musical Theater, and Belonging in America. Jake Johnson, Oklahoma City University.
This lecture is co-sponsored by the American Religious Sounds Project, the Center for the Study of Religion, and The Ohio State University Libraries.
---
Spring 2019 Series