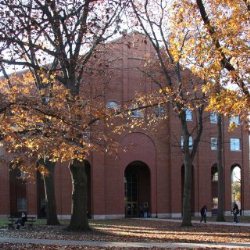 Lecture Series
Lectures in Musicology is co-sponsored by The Ohio State University Libraries.
Lectures will begin at 4 p.m. in the 18th Avenue Library (second floor, Music/Dance Library, Room 205), 175 West 18th Ave., unless otherwise noted. These events are FREE and open to the public.
Campus visitors, please use the Tuttle Park Place Garage or the Ohio Union South Garage. All other garages in the vicinity of the 18th Ave. Library are closed to visitors before 4 p.m.
---
Autumn 2018
Abstracts and Speakers

September 24 — Ring-a-ding-ding: Performance Styles in the Movies and Music of Frank Sinatra. Dana Polan, New York University.
October 1 — Transnationalism Comes Home: UNESCO, USIA, and Women's Advocacy for Music. Danielle Fosler-Lussier, The Ohio State University.
October 8 — Blasting the Heritage Corner: Arab-Jewish Slam Poetry and the Performance of Resistance in Israel. Michal Raizen, author.
October 22 — The Musical World of Jean Gerson (1363–1429). Graeme Boone, The Ohio State University.
October 29 — The Sounds of Equity and Inclusion: Hip-Hop in Brazil and Beyond It. Dave McLaughlin, The Ohio State University.
---
Spring 2018
---
Autumn 2017
---
Visit the Lecture Series Archive to view prior academic years' topics and speakers.