Monday, April 18, 2016 -

4:00pm

to

5:30pm
18th Avenue Library, 175 W. 18th, Room 205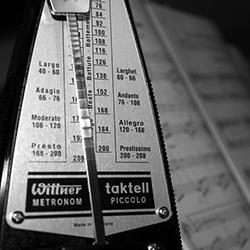 Metronome Marks, the Composer's Intention, and the Sense of the Work. Mary Hunter, Bowdoin College.
When, as performers, we assert that we are being faithful to the intentions of the composer, or that we're observing Werktreue, we are often making choices about which intentions matter most, or about what constitutes the "Werk" to which we are being "treu." There is no better example of this than our attitudes to composer's metronome marks. This talk examines modern performers' comments about the value (or lack thereof) of authorial metronome marks in relation to their sense of communicating the true spirit of the work.
Mary Hunter is a musicologist with interests in eighteenth-century opera, the history and ideology of performance, and music in culture. She has received research grants from the National Endowment for the Humanities, the American Philosophical Society and the National Humanities Center.
She is the author of The Culture of "Opera Buffa" in Mozart's Vienna (Princeton, 1999), which won the American Musicological Society's Kinkeldey Prize, and Mozart's Operas: A Companion (Yale, 2008). She is the co-editor, with James Webster, of "Opera Buffa" in Mozart's Vienna (Cambridge 1997) and, with Richard Will, of Engaging Haydn: Culture, Context and Criticism (Cambridge 2012). She has been the editor of the Journal of Musicological Research, the Cambridge Opera Journal, and AMS Studies in Music. The author of many articles in such journals as The Journal of the American Musicological Society, Journal of Musicology, and Cambridge Opera Journal, and in many edited collections, she is currently working on a project about the ideology of performance in classical music culture.
---

Lectures in Musicology is co-sponsored by The Ohio State University Libraries.
Lectures are held Mondays at 4 p.m. in the 18th Avenue Library, 175 W. 18th Ave. (Music/Dance Library, second floor, room 205), unless otherwise noted. These events are free and open to the public.
Campus visitors, please use either the Lane Ave. Garage or the Ohio Union South Garage. All other garages in the vicinity of the 18th Ave. Library are closed to visitors before 4 p.m.