Monday, April 3, 2017 -

4:00pm

to

5:30pm
18th Ave. Library, 175 W. 18th, Room 205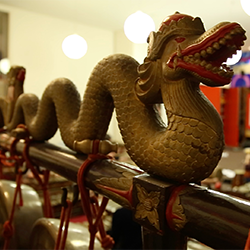 Maria Mendonça, Music and Anthropology at Kenyon College, presents Gamelan Performance in Britain: Encounters and Imaginaries.

The Indonesian gamelan - a predominantly bronze percussion ensemble comprising gongs, metallophones and other instruments - has had a long entanglement with the discipline of ethnomusicology, from its foundational moments to the present. But ethnomusicology is only one of several networks of circulation - including colonial administration, cultural diplomacy, educational ideology and prison rehabilitation - that have facilitated the movement and reinterpretation of the ensemble and its music outside of Indonesia. In this lecture, Maria Mendonça explores the ways in which the ensemble and its music has been re-imagined and localized in Britain, drawing on her recent ethnographic film project Gamelan Encounters (2016).

Maria Mendonça is associate professor in Asian Music and Culture at Kenyon College, where she teaches in the anthropology and music departments. She has worked as an ethnomusicologist in a variety of settings in the U.S. and U.K., including as ethnomusicology editor for the 2001 edition of The New Grove Dictionary of Music and Musicians; she also established gamelan programs in the education departments at the Hallé Orchestra, Manchester, and St. David's Hall, Cardiff. Her research interests include Indonesian gamelan, music in transnational circulation, music in prison contexts, cultural policy, ethnomusicology and the public sector, and ethnographic film. Her articles have appeared in such journals as Ethnomusicology, Asian Music, and the Journal of Applied Arts and Health.
---

Lectures in Musicology is co-sponsored by The Ohio State University Libraries.
Lectures are held Mondays at 4 p.m. in the 18th Avenue Library, 175 W. 18th Ave. (Music/Dance Library, second floor, room 205), unless otherwise noted. These events are free and open to the public.
Campus visitors, please use either the Tuttle Park Place Garage or the Ohio Union South Garage. All other garages in the vicinity of the 18th Ave. Library are closed to visitors before 4 p.m.