Monday, November 24, 2014 -

4:30pm

to

6:00pm
18th Avenue Library (Room 205), 175 W. 18th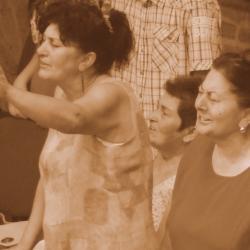 Kinga Povedák, visiting researcher at The Ohio State University Center for Folklore Studies, presents "Performance and Creativity in Religious Experience: A case study of Pentecostal-charismatic Romani worship music from Hungary."

Perhaps the most significant religious transformation of the late 20th and early 21st century is the worldwide boom of Pentecostalism. This process is not only visible in America or Africa; it can also be experienced in Europe where Romani, the most marginalized ethnic group, are turning toward the new Charismatic movement. A major driving force in this transformation is the appeal of contemporary praise and worship music. Ethnographic research among Pentecostal-Charismatic Romani in a unique postsocialist religious environment in Hungary reveals how Pentecostal religious practices are contested, appropriated and incorporated. In this talk Kinga Povedák examines how religious songs affect Romani communities and identities, how the Romani adapt the songs for their own use, and how they transform the music and lyrics. Through this research, we see how traditional values are changed as individuals and communities from traditional localities are immersed in global Pentecostal practices.

Kinga Povedák is assistant research fellow at the Research Group for the Study of Religious Culture at Hungarian Academy of Sciences, University of Szeged, Hungary, and a visiting researcher at The Ohio State University Center for Folklore Studies. She is a specialist in vernacular religion, completing her PhD dissertation on contemporary liturgical music.
---
Musicology lectures are held Mondays 4:30-6 p.m. in the Music/Dance Library, Room 205, second floor of the 18th Avenue Library at 175 West 18th Ave., unless otherwise noted.