Monday, February 27, 2017 -

4:00pm

to

5:30pm
18th Ave. Library, 175 W. 18th, Room 205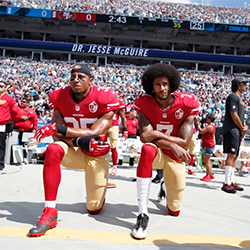 Guest speaker Benjamin Tausig presents Aural Mutiny: Refusals of the Ear.

From the 1970s through the 1990s, scholarship on music and politics was anchored by theories of resistance--against states, institutions, and capitalism. In recent years, resistance theory has been increasingly supplanted by the concept of refusal, which seeks to understand not only how people push back, but how they generate relationships and socialities with each other in the process. (We might consider, for example, how Colin Kaepernick's protest of the national anthem in 2016 has helped to produce a community of like-minded athletes, from professionals to amateurs, and to link them to the Black Lives Matter movement). In Thailand, where I have conducted fieldwork since 2010, free speech is violently restricted, and protest frequently happens through generative acts of aural refusal, including declining to stand at attention for the national anthem, which can invite a prison sentence. However, sound studies and ethnomusicology have not yet theorized the important and potent political strategy of not listening. How do political actors both express dissent AND generate socialities through acts of aural refusal? How does the closing of the ear become an affiliative act?

Benjamin Tausig is assistant professor of ethnomusicology at Stony Brook University. His research focuses on sound, media and protest in Thailand, and he works on a variety of Southeast Asian musics in relation to political life, as well as on anthropological theories of sound studies. He has published work in Culture, Theory, and Critique and Positions: Asia Critique and is currently finishing revisions of a monograph about the 2010-11 anti-government protests in Bangkok.
---

Lectures in Musicology is co-sponsored by The Ohio State University Libraries.
Lectures are held Mondays at 4 p.m. in the 18th Avenue Library, 175 W. 18th Ave. (Music/Dance Library, second floor, room 205), unless otherwise noted. These events are free and open to the public.
Campus visitors, please use either the Tuttle Park Place Garage or the Ohio Union South Garage. All other garages in the vicinity of the 18th Ave. Library are closed to visitors before 4 p.m.