Sunday, October 22, 2017 - 2:00pm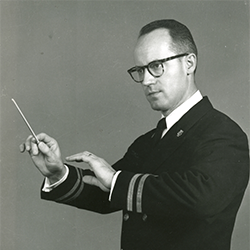 The School of Music presents a concert commemorating the 100th birthday of Dr. Donald E. McGinnis (1917–2016). His legacy as a conductor, composer, mentor and teacher is honored by many. His Symphony for Band will be performed by the Wind Symphony; also featured are a flute and clarinet ensemble playing Frank Hudson's arrangement of Ye Banks and Braes O' Bonnie Doon by Percy Grainger. The Wind Symphony also performs Overture to School for Scandal, Samuel Barber/trans. Frank Hudson; Rest, Frank Ticheli and in Exuberant Celebration, Roger Cichy (written for Dr. McGinnis' 90th Birthday Celebration). Russel C. Mikkelson, conductor.
This event is free and open to the public. No ticket required.