Saturday, November 21, 2020 - 10:00am
Thursday, December 10, 2020 - 7:00pm
Saturday, January 9, 2021 - 10:00am
Monday, February 1, 2021 - 7:00pm
ONLINE (Registration required)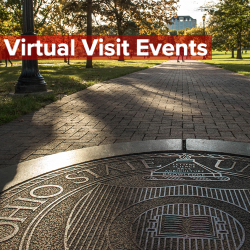 For high school musicians and their parents

Thinking about majoring in music in college? Want to learn more about the School of Music at Ohio State? We have planned several virtual visit events for you. Drop in on a Saturday morning or week night to enjoy our presentation, chat with faculty and students, and enjoy some music by our current Buckeyes.

Some of you joined our Fall Visit Day in October. Some missed out when our Spring Visit Day was cancelled last April. Feel free to visit again, or for the first time.
Learn more and register at School of Music Virtual Visit Events.

---

In light of changing guidelines throughout the COVID-19 pandemic, dates and details for School of Music events are subject to change. The safety of our community is our top priority. For updates, check this site often and follow the School of Music on social media.