Monday, October 5, 2015 -

4:00pm

to

5:30pm
18th Ave. Library, 175 W. 18th, Room 205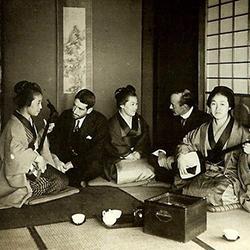 Kerim Yasar, assistant professor of Japanese in the Department of East Asian Languages and Literature, presents "Auditors Abroad: Western Travelers Listen to Meiji-Era Japan."
The encounter with sonic alterity, mediated by an organ that cannot turn but can only move away, an organ that cannot close itself but can only be covered, is fraught with particular possibilities and anxieties. Whereas many of the Westerners who visited Japan in the decades after its opening to the outside world exhibited a ready willingness to take in and appreciate visual artifacts such as textiles and ukiyo-e prints, the number who could tolerate, much less embrace, the auditory culture of late nineteenth century Japan was much smaller. The reactions of Westerners to the sounds of Meiji-era (1868-1912) Japan are well documented in the extensive library of travel diaries, descriptive guides, and fictional works produced by these early voyagers. Most of them arrived with a fairly predictable set of Orientalist and colonialist assumptions about the culture that greeted them, and while some of those assumptions were confounded by a civilization whose standards of comportment were in many ways more refined than their own, the exotic and incomprehensible sounds of Japan offered many of them an easy target for derision and cultural chauvinism. At the same time, these travelers demonstrated an attentiveness to the ambient soundscape that is largely missing from the writing of the Japanese of the time. In this presentation I describe some of these reactions and think through the implications for the legibility of auditory otherness, as well as the power of music--not to "communicate" across cultural boundaries, as the cliché has it, but to thwart strategies of colonialist discursive inoculation and really get under the listener's skin.
Kerim Yasar is assistant professor of Japanese at Ohio State, specializing in modern Japanese literature and film, media history, and translation studies. His current book manuscript, Electrified Voices: Auditory Technology and Culture in Prewar Japan examines the roles played by the telegraph, telephone, phonograph, radio, and sound film in the discursive, aesthetic, and ideological practices of Japan from 1868 to 1945. In conjunction with this project, he has worked with Japanese studies librarian Maureen Donovan and music librarian Alan Green to make The Ohio State University the first institution in North America to gain access to the National Diet Library's online Japanese Historical Recordings Collection, as well as to build the first dedicated collection of historical Japanese sound recordings in the United States. He has published translations from Japanese in a variety of genres and media, from contemporary Japanese novels to pre-modern poetry to subtitles for more than eighty Japanese films in the Criterion Collection and Janus Film libraries, including classic works by directors such as Kurosawa Akira, Ozu Yasujiro, and Oshima Nagisa. He has previously taught at Boston University, the University of Notre Dame, and Princeton University, where he was the East Asian Studies-Cotsen Postdoctoral Fellow in the Society of Fellows in the Liberal Arts. He has a PhD in East Asian Languages and Cultures from Columbia University and a BA in Music from Wesleyan University.
---
Lectures in Musicology is co-sponsored by The Ohio State University Libraries.
Lectures are held Mondays at 4 p.m. in the 18th Avenue Library, 175 W. 18th Ave. (Music/Dance Library, second floor, room 205), unless otherwise noted. These events are free and open to the public.
Campus visitors, please use either the Lane Ave. Garage or the Ohio Union South Garage. All other garages in the vicinity of the 18th Ave. Library are closed to visitors before 4 p.m.