Saturday, March 24, 2018 - 2:30pm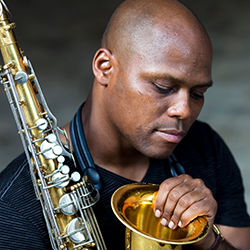 Hailed by the New York Times as "a tenor saxophonist with an enigmatic, elegant and hard-driving style," J. D. Allen is a bright rising light on today's international jazz scene. His unique and compelling voice on the instrument — the result of a patient and painstaking confrontation with the fundamentals of the art — has earned Allen a blaze of critical attention signaling his ascension to the upper ranks of the contemporary jazz world.
J. D. Allen will be a featured guest in tonight's headline concert, Charlie Parker with Strings.
The master class is free and open to the public.
---
Originally from Detroit, Allen's apprenticeship, anchored by his lengthy tenure with Betty Carter, occurred largely in New York, where he worked with legends Lester Bowie, George Cables, Ron Carter, Louis Hayes, Frank Foster Big Band, Winard Harper, Dave Douglas, Cindy Blackman, Butch Morris, David Murray, Wallace Roney, Rufus Reid and Geri Allen. In 2008 Sunnyside Records released Allen's I AM — I AM which garnered rave reviews from the New York Times, Time Out NY, All About Jazz, Jazzman, Jazz Wise and Downbeat. That year Allen appeared on NPR's Jazz Perspectives, WNYC's Soundcheck and WKCR's Musician's Show. Allen was named "Rising Star" in Downbeat's 2011 Critic's Poll and as a finalist in the 2010, 2009 and 2008 polls. In 2009 Allen released Shine! (Sunnyside Records), which seems to have detonated the trail of musical gunpowder he had long been putting down. He received Top 10 Album of the Year in over 25 publications worldwide including NPR's Top 5 Albums of 2009, JazzTimes' Top 50 Albums of 2009, Village Voice #9 Jazz Album of the Year, Boston Globe Top Jazz Album of the Year 2009. Praise for the album led Lorraine Gordon, owner of the historic Village Vanguard, to invite Allen and his trio for a weeklong stint. The engagement was met with relentless coverage from the cultural press including Time Out New York, WNYC's Leonard Lopate Show, Ben Ratliff on WBGO's Josh Jackson show, and the New York Times which commended Allen for his trio's "fearless approach to a formidable tradition." Allen's final trio record labeled Victory! (Sunnyside) garnered director Mario Lathan's biographical short film on Allen, the 2011 Jazz Journalist Association (JJA) award for Best Short Film and has received worldwide recognition including a feature on NPR's First Listen, an in-depth piece in the June issue of JazzTimes and 4 stars from Downbeat. In 2012 Allen began his association with Savant Records, which released The Matador and The Bull (2012), Grace (2013), Bloom (2014), Graffiti (2015), Americana (2016) and Radio Flyer (2017), which are earning Allen considerable recognition in the New York Times, The Atlantic, NPR, Downbeat and JazzTimes among other notable publications.