Saturday, March 24, 2018 - 3:45pm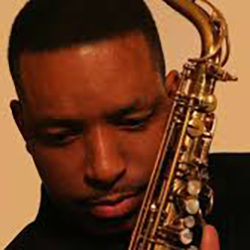 Donald Harrison presents a master class, which is free and open to the public. He is a featured guest artist in tonight's Jazz Festival headline concert, Charlie Parker with Strings.
Harrison, born in New Orleans, grew up in an environment saturated with the city's traditional brass bands, Afro-New Orleans culture, modern jazz, R&B, funk, classical, world and dance music. He has deep roots in a new American style of African culture developed in New Orleans. He created "Nouveau Swing," a style of jazz that merges it with modern dance music. He also combined jazz with Afro-New Orleans traditional music on his critically acclaimed and influential albums Indian Blues and Spirits of Congo Square. Harrison has performed and recorded in a variety of genres with numerous artists including Art Blakey, Roy Haynes, The Cookers, McCoy Tyner, Miles Davis, Lena Horne, Ron Carter, Billy Cobham, Eddie Palmieri, Jennifer Holiday, Dr. John, Guru's Jazzmatazz, McCoy Tyner, Dr. Lonnie Smith, Digable Planets, Notorious BIG, The Chicago Symphony Orchestra and The Louisiana Philharmonic Orchestra. An evacuee/survivor of Hurricane Katrina, Harrison had a prominent role in Spike Lee's HBO documentary, When the Levees Broke. He also appeared and co-wrote the sound track for Academy Award winning director Jonathan Demme's feature film, Rachel's Getting Married. Aspects of Harrison's life and music are chronicled with two characters in David Simon's groundbreaking HBO series, Treme. Harrison recorded Quantum Leap, which melds cutting-edge jazz with New Orleans funk, connecting the past to the present with jazz music that transcends boundaries. He recorded his first classical orchestral composition, Congo Square Part I with the Moscow Symphony Orchestra. Donald Harrison is co-founder and artistic director of the Tipitana's Intern Program, an after-school program for high school students interested in pursuing music as a career. Harrison's awards include France's "Grand Prix du Disque" (twice), Switzerland's "The Ascona Award," Japan's Swing Journal "Alto Saxophonist of the Year," The Jazz Journalist Association's "A List Award," 2012 New Orleans Civic Award, 2007 Jazziz Magazine's "Person of the Year," the Big Easy Music Awards "Ambassador of Music" and a Downbeat Magazine's Alto Saxophone Poll winner. He was also a 2006 resident at William and Mary College, a 1995 "Meet The Composer" recipient and a 2012 Grammy nominee.