January 13, 2022
Join the School of Music at OMEA
Image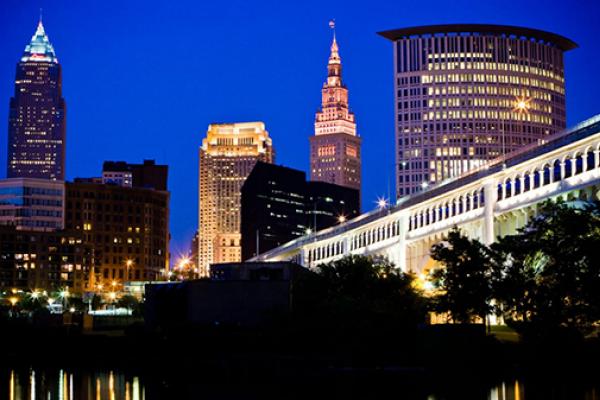 Description
Feb. 3 – 5, 2022
The School of Music regrets to announce that we will not host our annual alumni reception this year. Ohio State's highest priority is the health and well-being of our community.

We look forward to visiting with you at our booth #501. Come learn about the soon-to-be open Timashev Family Music Building and more. 
Ohio State School of Music OMEA PDC Update
February 2, 2022 — Due to the incoming storm we have made the difficult decision to cancel performances by the Wind Symphony and Symphony Orchestra. We feel it is best not to travel based on the current forecast. The Wind Symphony hopes to record and then share their program. Stay tuned. The Symphony Orchestra presented their annual Concerto Concert earlier this week — featuring faculty artists, concerto competition winners and the world premiere of in transit, by student composer Cooper Wood. You can watch it on YouTube here. We look forward to seeing all of you here in Columbus, Feb. 2–4, 2023.
PERFORMANCES — Cancelled
The Ohio State University Symphony Orchestra
Miriam Burns, conductor
3:30 p.m.
featuring 
World premiere of in transit by Cooper Wood, and
W. A. Mozart: Sinfonia Concertante, mvt. 3
Kia-Hui Tan, violin; Juliet White-Smith, viola
The Ohio State University Wind Symphony
Russel C. Mikkelson, conductor
5 p.m.
featuring
Rimsky-Korsakov: Variations on a Theme by Glinka
Abby Yeakle Held, oboe
 
---
SESSIONS
Check the updated PDC schedules. Some sessions may be delayed or cancelled due to the weather.

Thursday, Feb. 3
AE for Teachers New to Adjudicated Events
Designed for pre-service teachers and educators who are interested in first-time participation in adjudicated events. This session will include an overview of all adjudicated events offered by OMEA.
Jay Wardeska
Virtual  •  Available Feb. 3 (8 a.m. ET) – March 6 (11:59 p.m. ET)
AE Band Affairs: Teaching Comprehensive Musicianship to Improve Sight-reading
This session will focus on teaching fundamental concepts of comprehensive musicianship to improve overall student sight-reading skills.
Jay Wardeska
8 a.m.  •  CC 4
How to OMEA: Building Your Professional Network with Strategy and Skill
Jordan Saul and David Hedgecoth
2 p.m.  •  CC 24
AE Woodwind Adjudication Session
Designed for current and future Woodwind Adjudicators with focus on S&E events and the woodwind section in ensembles. This session fulfills required adjudicator professional development.
Jay Wardeska
3:30 p.m.  •  CC 4
 
Friday, Feb. 4
Is Being a String Teacher in the Schools Really Important Anyway?
Is teaching strings important, Really? Aren't doctors, lawyers, those with higher paying professions more important? This session will include 69 answers to these questions and more!
Robert Gillespie
8 a.m.  •  CC 1
Exceptional Teaching for Exceptional Learners
Josh Reynolds and Lauren Reynolds
11 a.m.  •  CC 11
PANEL: Visions of Preservice Curricula at Ohio Universities
Daryl Kinney
2 p.m.  •  CC 12
Mental Health 101: A Crash Course on the Challenges of Today's Students
Josh Reynolds and Lauren Reynolds
5 p.m.  •  CC 4

Saturday, Feb. 5
Working with a Young Rhythm Section
Join the Cleveland Jazz Orchestra Rhythm Section as they present tips on developing your young rhythm section. Proper technique, maintenance and gear will be featured as well.
Featuring Jim Rupp
9:30 a.m.  •  HI Hope BR
You Are the Voice Teacher: Teaching Technique and Authenticity of Vocal Production in Choral Singing (presentation will be repeated at the Northwestern Region of American Choral Directors Association in Spokane, WA on March 10)
Amy Johnston Blosser* and C. Andrew Blosser
11 a.m.  •  CC 3
Amy Johnston Blosser (MM 2008, BME 2000) and the Bexley High School Vocal Ensemble will perform on Friday, Feb. 4 at 2 p.m. in CC–ABR and are the demo choir on Friday, Feb. 4 at 5 p.m. in CC–ABR for a conducting workshop with headliner Dr. Hilary Apfelstadt.
From Research to Practice: Looking Back, Moving Forward: Lessons and Beset Practices Emerging from COVID-19
David Hedgecoth
12:30 p.m.  •  CC 4
Teaching Ethics in the Private Studio
Mark Rudoff
12:30 p.m.  •  CC 12
 
We look forward to seeing our fellow Buckeyes in Cleveland!
---