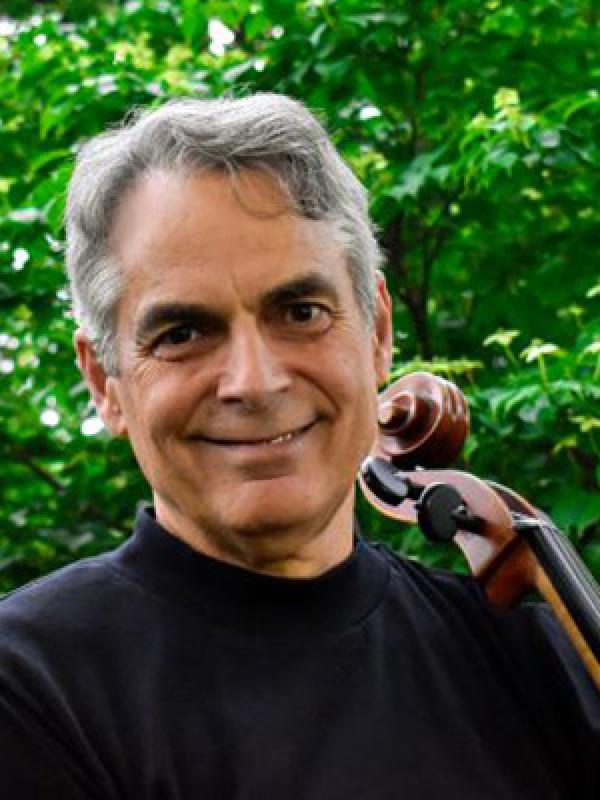 Mark Rudoff
Associate Professor of Cello
N376 Timashev Building
1866 College Rd
Columbus, OH 43210
Areas of Expertise
Cello and Chamber Music
Effective Instrumental Practice
Musical Interpretation as Discourse and Practice
Teaching Ethics
Education
JD, University of Saskatchewan, 1990
MM, The Juilliard School, 1980
BM, The Juilliard School, 1979
Cellist Mark Rudoff has demonstrated extraordinary versatility as a performer and teacher. Students in the cello studio at The Ohio State University share in an eclectic pedagogy, with influences ranging from legal discourse to sports, liberally spiced with passion and humor. Cello at Ohio State is about preparing the complete artist with musical, technical, intellectual and personal skills to bring their music to the world.

Applauded by critics as "an exceptionally gifted cellist" and "a charismatic performer," Rudoff has performed in solo recitals and with orchestras in Canada and the United States, and his solo and chamber performances have been recorded for broadcast on CBC. A respected chamber musician, he performs with the Janus String Quartet, Galileo Trio and Chiarina Piano Quartet. Equally accomplished in the orchestra sphere, Rudoff has served as principal cello of the Calgary Philharmonic and Saskatoon Symphony Orchestras, and in the sections of orchestras including the New York Philharmonic, Brooklyn Philharmonic and New York City Ballet, performing under such conductors as Leonard Bernstein, Zubin Mehta, Kazuyoshi Akiyama, Lukas Foss and Aaron Copland.
Prior to joining the Ohio State faculty, Mark Rudoff was professor of cello, chamber music and orchestra at Brandon University in Manitoba, Canada. Away from Ohio State, he has been invited to teach and perform at festivals including Interlochen Summer School of the Arts, Music from Salem, The Florentia Consort, and Zephyr International Festival. He has delivered presentations on performance and pedagogy at the American String Teachers Association and College Music Society National Conferences, and students throughout Canada and the northern U.S. have enjoyed Rudoff's work as an adjudicator and workshop clinician. He is currently music director of the Cincinnati Community Orchestra, and previously conducted the Winnipeg and Saskatoon Youth Orchestras.
Active across the Ohio State campus, Professor Rudoff has served as a faculty mentor in STEP, taught the First-Year Seminar "Conversation will Save the World," and received a 2021 Ethics Circle Fellowship from the Ohio State Center for Ethics and Human Values. Rudoff is recipient of the Ronald and Deborah Ratner Distinguished Teaching Award in Arts and Humanities in The Ohio State University College of Arts and Sciences, and finalist for the College of Arts and Sciences' Outstanding Teaching Award.
Rudoff earned BM and MM degrees from The Juilliard School, graduating with the Edward Steuermann Prize. He studied there with Harvey Shapiro, Lynn Harrell, Lorne Munroe and Joel Krosnick, and was appointed teaching assistant to the Juilliard Quartet. He later held a residency at The Banff Centre for the Arts, pursuing advanced studies with artists including Paul Tortelier, Anner Bylsma, Wieland Kuijken, Siegfried Palm, and Witold Lutoslawski. Rudoff also holds a JD from the University of Saskatchewan, where he was appointed to the editorial board of the Saskatchewan Law Review and graduated with distinction in 1990. He enjoys the odd distinction of having published an article about music in the Alberta Law Review, and one with a legal slant in American String Teacher.
Pronouns: He/him/his

PRESENTATIONS
"Lenny and Nino: Leonard Bernstein and Antonin Scalia Argue Interpretation Theory and Practice." Invited presentation at Public Music Discourse: In Honor of the Bernstein Centenary, University of South Carolina.
"Secrets from the Cello Lab: Reimagining the Instrumental Studio." Invited presentation at American String Teachers Association National Conference.

"A Theory Prof and a Cello Prof Walk Into a Bar." Paper with Dr. Anna Gawboy presented at College Music Society National Conference.
"Beethoven, 1815: The Master Breaks the Mold." Recital with Robin Rice and Edward Bak given at Vanderbilt University and The Ohio State University.
"Not Just Another Bull**** Lecture." TEDxOhioState.
AUDIO FILES
MARK RUDOFF TEACHING MATERIALS
People Filters: