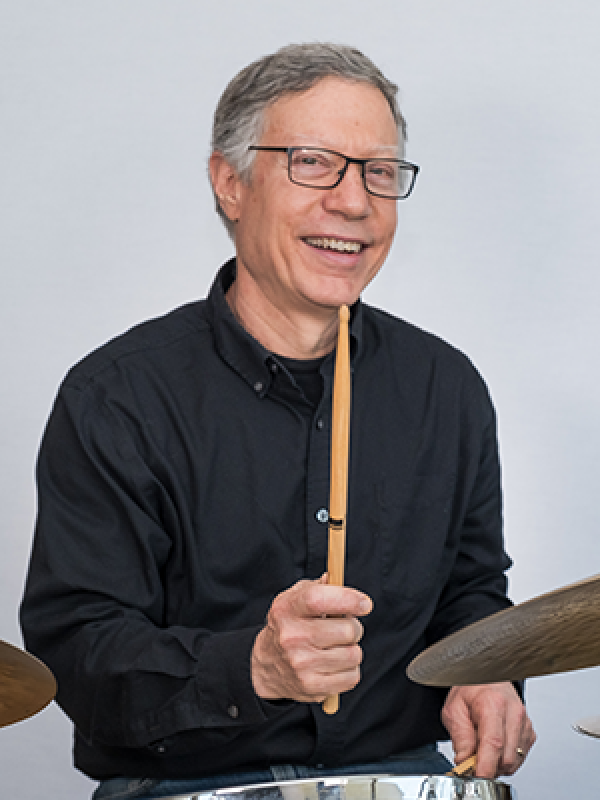 Jim Rupp
Associated Faculty, Jazz Drum Set
N543 Timashev Building
1866 College Rd
Columbus, OH 43210
jrupp@mac.com
Jim Rupp is currently the drummer in the Cleveland Jazz Orchestra and the Cleveland Pops Orchestra. He has toured extensively with the bands of Woody Herman (where he played on three recordings, one of which was nominated for a Grammy), Maynard Ferguson, and the Glenn Miller Orchestra. He also spent eight years with Grammy-winning jazz singer Diane Schuur, and has toured and performed with Tony Bennett, Ray Charles, Joe Lovano, Henry Mancini, Vince Mendoza, John Fedchock, John Faddis, Byron Stripling, Maria Schneider, Clary Terry, Joe Williams, Cab Calloway, Rosemary Clooney, Natalie Cole, Hank Marr, Rusty Bryant, the Columbus Jazz Orchestra, and the Smithsonian Masterworks Jazz Orchestra. Jim has also played, as a Pops drum set player, in orchestras around the country including the orchestras of Boston, Detroit, Pittsburgh, Columbus, St. Louis, Dayton and Cincinnati.
These touring credits, plus his educational background, have prepared him well for clinics and performances at colleges and high schools around the country. He has given workshops at the Percussive Arts Society International Convention, the International Association of Jazz Educators Conference, Jazz at Lincoln Center, Jazz Educators National Conference, OMEA, and numerous colleges and high schools around the country. In this capacity he is a clinician for Noble and Cooley drums, Zildjian cymbals, Pro Mark drumsticks, and Remo drumheads.
As an educator, Rupp has taught at Indiana University and the University of Michigan, as well as his current appointment at The Ohio State University. In 2021, he was given the outstanding alumni award from the School of Music at Ohio State. He is also the co-author of an acclaimed drum set method book, "Baby Steps to Giant Steps." Rupp is a past chair of the drum set committee for the Percussive Arts Society, a past board member of NAMM (the International Music Products Association), and the president of Columbus Pro Percussion Inc., one of largest and most respected percussion specialty shops in the country.
---
Some notes about the drum set program from Jim Rupp...

I think you will find Ohio State an exciting university with activities and music in abundance. The university offers an outstanding music school with a faculty that shares your passion for music and is excited to help you reach your goals in music. The jazz area faculty are all outstanding working musicians and can share real-world working knowledge of both playing music and success in the music business. The jazz ensembles at Ohio State have an award-winning tradition and are highly regarded nationally. In addition to the big bands, the Jazz Studies area has eight small combos whose style and focus vary, so that your stylistic experiences will vary. I really believe that the quality, depth, and breadth of all the musical ensembles is a real strength of the School of Music here at Ohio State, and I encourage all my students to take advantage of it. The concert percussion department with faculty members Susan Powell and Joe Krygier is outstanding, and we work together to assure a broad experience in concert percussion as well as drum set playing.

Another advantage of Ohio State is its sheer size! Anything you could want you can find, which allows a student to explore options of both academic and casual interest. By the same token, the School of Music is a tight-knit community and the jazz drumming studio consists of 7 to 10 players, so here you are in a setting that offers the advantages of a much smaller studio.

Along with the advantages of the university itself, there is the metropolitan atmosphere of Columbus where the jazz community is strong and active. National artists work and perform here often. For a jazz major, the exposure to the scene in Columbus is a real plus. You will also find in my teaching studio that local players and alumni who have successful careers are often invited into the studio to give lessons, master classes, and workshops. That exposure to many different players, influences and styles strengthens your playing. Over the last several years we have hosted Jeff Hamilton and his trio, Carl Allen, Stanton Moore from Galactic, Pete Retzlaff from the Drummers Collective in NYC, and Reggie Jackson (Diane Schuur) to give master classes or lessons.

My personal philosophy for lessons is to give you the skills to succeed in whatever direction your career takes you. An emphasis is placed on the hand development techniques of Joe Morello, reading, and developing the ability to play comfortably in a variety of styles. Modern drum set playing evolved from jazz styles, and we will cover that as well as its branching into Latin and funk drumming. My goal is to give you the tools, both musical and business-wise, to succeed in a very competitive industry, no matter where the future of music or your interests take you.
---
Some frequently asked questions…..

What are the undergraduate audition requirements for the jazz drumming studio?
For complete In-Person Audition Requirements, as well as for Video Audition Requirements, visit Audition Requirements/Jazz — Jazz Drum Set. I also look forward to discussing your goals in music and how Ohio State can help you achieve them.
Who will listen to my audition?
Jim Rupp, instructor of drum set at Ohio State, and one other faculty member will normally hear your audition.
Where can I find information about the degrees offered in The Ohio State University School of Music?
The best place to find general information about the School of Music and its degree offerings is the School of Music website (music.osu.edu). There is a wealth of information that can be very helpful on a variety of topics. For questions you may contact the Undergraduate Studies coordinator at music-ug@osu.edu or 614 292-2870.
Can you explain the difference between being a jazz studies drum set major and a concert percussion major?
The two areas (jazz studies and the concert percussion studio) are separate entities. If you are accepted as a jazz studies major, that does not mean you are automatically accepted into the concert percussion studio, and vice versa. Separate auditions are required for each. Obtaining a double major in both jazz studies and concert percussion is possible, but you must be accepted into both the jazz percussion and concert percussion studios at the time of your audition. A very positive aspect of the overall experience at Ohio State is that the two studios cooperate to make as complete an experience as possible for students of both studios.
Is it possible for a non-music major to get jazz drumming lessons?
Generally, the slots for private lessons are for music majors, both concert percussion and jazz drumming. Lessons for music minors require special permission and an open slot in the schedule.
Can a non-music major audition for the jazz groups?
All university students are encouraged to audition for any of the jazz groups. A sign-up sheet will be posted on the bulletin board in Weigel Hall (across from the first floor elevator) in early autumn. At the audition you will be asked to play various styles and grooves at the drums and to sight read a chart using headphones. For annual ensemble audition information, visit Ensembles.
If I audition for acceptance into the jazz department studio but am denied, can I audition again?
The School of Music allows students to audition two times for acceptance, but the audition must take place the following year, on one of the regularly scheduled audition dates.

If you have additional questions, please feel free to contact me.
People Filters: