May 4, 2023
School of Music partners with WOSU for new IMMERSE concert series
Image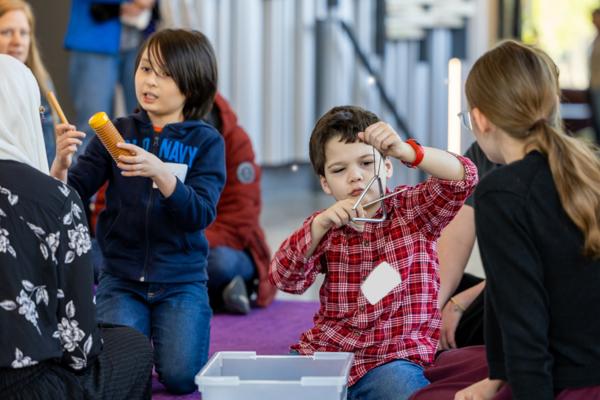 Description
On April 22, School of Music students and faculty partnered with WOSU Classical 101 and The Ohio State University Nisonger Center to present the first IMMERSE concert program held in the new Ross Community Studio.
IMMERSE is a sensory-friendly, interactive concert experience where children with autism listened to live music performed by our students and took part in engagement activities where participants expressed themselves through music making, art and movement. Kids and parents were free to move about as they needed to, and our School of Music students learned about working with children on the autism spectrum from trainers at Nisonger.
Congratulations to our outstanding graduate student performers Meagan Gaskill, flute; Lydia Butterfield, cello; Kaleigh McGee, clarinet; Hannah Moore and Sam Sherer, percussion. Special thanks to our volunteers from the Music Education area who provided support during the interactive engagement activities: Grace Reven, Laura Pitner, Lindsey Scarberry, Nathan Irby, and Associate Professor David Hedgecoth.
Plans for a second event are in the works for autumn 2023.
---