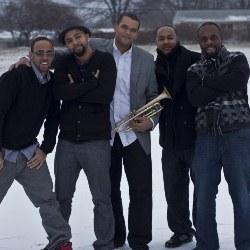 36th Annual Jazz Festival April 4-7
Thursday, April 4
Kris Johnson Group • 6 pm • Weigel
John Hollenbeck Large Ensemble • 8 pm • Wexner
Friday, April 5
Ohio State Jazz Ensemble featuring Shawn "Thunder" Wallace, saxophone • 8 pm • Weigel
Saturday, April 6
Ohio State Jazz Bands and directors: 10am Combo A, Kevin Turner; 10:25 Combo B, Andy Woodson; 10:50 Combo C, Tim Cummiskey; 11:15 New Orleans Traditional and Swing Combo, Jim Masters; 11:40 Latin Combo, Kris Keith; 12:05 Jazz Fusion Combo, Shawn Wallace; 12:30 Art Blakey Combo, Kris Johnson; 12:55 Jazz Workshop Ensemble, Jim Masters; 1:20 Jazz Lab Ensemble, Kris Keith.
---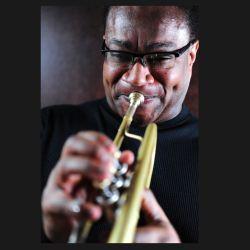 Saturday Evening Headliner Concert
PHAREZ WHITTED SEXTET
Saturday, April 6 • 8 pm • Weigel
Led by postbop trumpet stylist Pharez Whitted, this Chicago band has enjoyed critical acclaim with the release of "Transient Journey," nominated for Best Jazz Album of the Year for 2010, and the 2012 album "For the People." now enjoying a Top 10 rating by the Independent Music Awards.
Advance ticket sales until Saturday, April 6 between 1:00-3:30 p.m. Call (614) 292-2295. Tickets are available at the door, one hour prior to the concert (cash or check only). Prices are $20/general public; $10/senior citizens, Alumni Association members, non-OSU students and children. Free for ConcertCard holders. Free to all Ohio State students, faculty and staff (one ticket per BuckID presented in person). Ticket policies and more at music.osu.edu.
---
Sunday, April 7
High School Jazz Band Day (No ticket required)
10:30 am-4 pm in Weigel Hall
High school jazz bands from Ohio and beyond will perform in concert. The Ohio State Jazz Ensemble will end the festival with a mini-concert. Open to the public.
An invitation from Dr. Ted McDaniel to high school band directors: The Jazz Studies faculty welcomes all high school jazz bands, from the less-mature to the advanced, to perform and receive constructive comments from our adjudicators, as well as receive a private clinic after your performance. Fees are $200 for big bands and $150 for combos (10 or fewer players). High School Day is part of our annual Jazz Festival which runs April 4-7. Band directors and their students are invited to attend all of the festival performances. To participate in High School Day, complete and mail the E-Z Registration form with the application fee. Learn about additional events for high school jazz musicians on our Jazz Opportunities page!