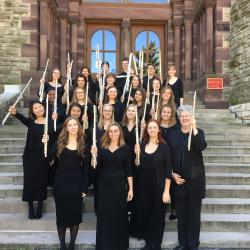 Through a competitive selection process, the Ohio State University Flute Troupe has been selected to perform at the 45th National Flute Association Convention in Minneapolis, Minnesota, August 9-13, 2017.
The group will perform two concerts on Saturday, August 12 at the convention center and will perform in the Minneapolis area for the Ohio State Alumni Association.
Repertoire for the performances will include pieces written by Ohio State alumni Roger Cichy, Zack Koors and Jacob Reed, among others.
The first performance will be a 25-minute showcase. The second concert, Remembrance and Healing, will feature a performance of Ave Maria by Carrillo which will serve as a memorial to two OSU flute alumni, Laura Bockbrader and Rebecca Smith.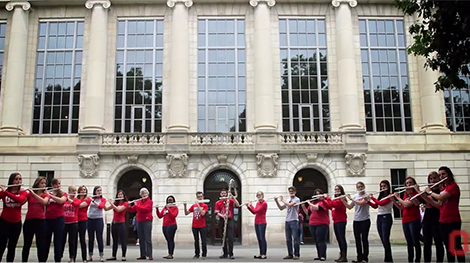 The Flute Troupe is known as one of the premiere university flute choirs in the country. Their YouTube video of "Hang on Sloopy" has been viewed over 300,000 times. Through attendance at this convention, these students will have the opportunity to hear and interact with the international professional flutists through concerts, workshops, competitions and master classes. Their experiences will provide perspective to their current work as students and musicians.
To help the Flute Troupe travel to Minneapolis in August, you can donate to their BuckeyeFunder.
The flute studio at The Ohio State University has been led by Professor Katherine Borst Jones since 1985. Jones has served as chair of woodwinds, brass and percussion since 1999 and of orchestral instruments since 2010. She was the recipient of the School of Music Distinguished Teacher Award in 1995 and 2012, and the Distinguished Scholar Award in 2008. Jones has served in many roles for the National Flute Association - as president twice, vice-president, 1992 Los Angeles convention program chair and as chair of development. She has performed at numerous conventions and was a member of the NFA delegation to the Soviet Union in 1989. She received the Distinguished Service Award in 2011.
The National Flute Association, a not-for-profit institution, is the largest flute organization in the world. It was founded to encourage a higher standard of artistic excellence for the flute, its performers and its literature. Members include leading soloists, orchestral players, college and university professors, adult amateurs, and students of all ages. NFA annual conventions are held in major cities in the U.S.