Friday, September 27, 2019 - 8:00pm
Hughes Hall Auditorium, 1899 College Rd, Columbus 43210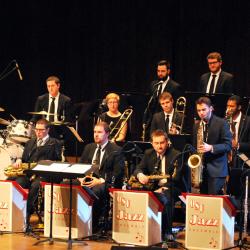 The Ohio State University Jazz Ensemble (Kris Keith conducting) and the Jazz Lab Big Band (Mike Smith conducting) present their joint opening concert of the academic year. Selections performed will reflect many facets of American big-band repertoire over its nearly 100-year history.
Jazz Lab Big Band will perform "Mosaic," Cedar Walton/arr. Don Sickler; "Secret Love," Sammy Fain and Paul Webster, arr. Greg Yasinitsky; "Quiet Night of Quiet Stars (Corcovado)," Antonio Carlos Jobim (English words by Gene Lees), arr. Mark Taylor, featuring Brooke Butler on vocals; and "The Sidewinder," Lee Morgan.
Jazz Ensemble's program features guest artists Shawn Wallace, alto saxophone, and Andy Woodson, bass. Selections include "Low Down," Thad Jones; "I Thought About You," Van Heusen/Mercer, arr. Vern Sielert; "Bemsha Swing," Monk/Best, arr. Bill Holman; "You Don't Know What Love Is," Raye/Paul, arr. Rob Lussier; "I Can't Get Started," Gershwin/Duke, arr. Joe Lipman; "Softly As In A Morning Sunrise," Hammerstein/Romberg, arr. Kris Berg.
This concert is free and open to the public. No ticket required.
***************************************
TRAFFIC/PARKING ADVISORY
College Road will be closed to through traffic due to an event on the South Oval at 8 p.m.
Patrons are advised to park in the Arps Garage and avoid Ohio Union South Garage area.
***************************************
---
Many School of Music performances will be held in Hughes Hall Auditorium while construction to Weigel Hall is underway. Hughes Auditorium accommodates a smaller audience and allows entry only during applause. Please plan ahead.

Note that the accessible entrance is located at the North end of the building. For evening and weekend performances, the closest parking is in Arps Garage.

A new home for the School of Music
The transformative Ohio State Arts District project includes a renovated and expanded School of Music. This new facility is an investment in our future performers, music educators, conductors and scholars. To learn more, visit go.osu.edu/artsdistrict.