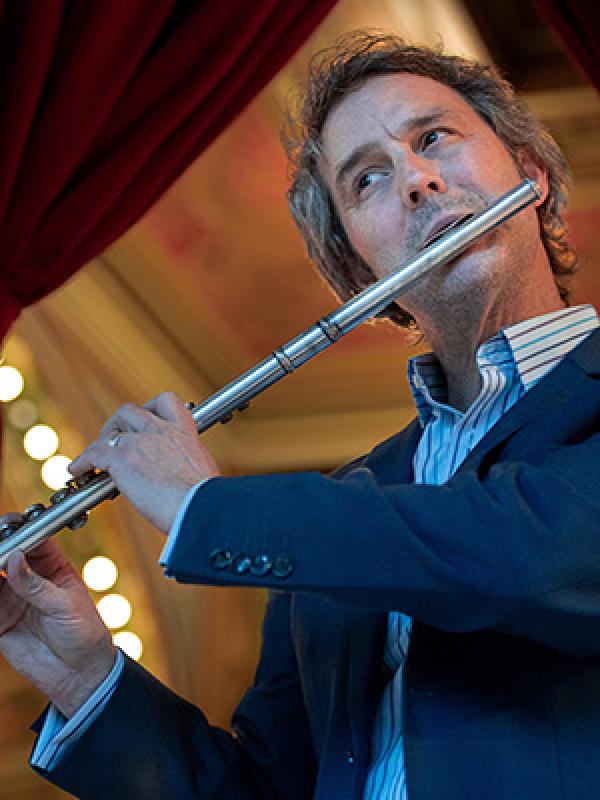 Kristopher Keith
Associated Faculty, Jazz Woodwinds
N465 Timashev Building
1866 College Rd
Columbus, OH 43210
Areas of Expertise
Jazz Woodwinds
Director, Latin Jazz Combo
Education
AIT Training, US Army School of Music, Norfolk, Virginia Naval Amphibious Base (1988)
Master of Arts, Woodwind Pedagogy, The Ohio State University (2012)
Bachelor of Music, Flute Performance and Jazz Studies, The Ohio State University (1994)
For over two decades, Kris Keith has made a name for himself in the local music scene in Columbus, Ohio —  performing in the pit orchestra for over 20 Columbus Broadway Series performances at the Ohio Theater and the Palace Theatre, with the Columbus Symphony Orchestra, ProMusica, and the Columbus Jazz Orchestra. His reputation as a strong woodwind doubler and his ability to perform a wide range of musical styles from jazz to classical, from Cuban to Brazilian, from rock to funk, has kept him in high demand as a sideman and session player.
Kris Keith has worked with major artists including Bill Taylor, Lew Tabackin, Diane Schuur, Johnny Mathis, Rosemary Clooney, Aretha Franklin, John Clayton, Andrea Bocelli, Amy Grant, Hubert Laws, Mark Levine, Rufus Reid, Steve Ferrone, Akira Tana, and Dr. John.
Keith's Cuban project, La Charanga Tres, received a Franklin County Neighborhood Arts grant ffor his project "Music Can Heal: A Latin Orchestra and Dance Experience" working with senior citizens, and he has been recognized as one of Columbus' "Forty Under 40" by Business First.
For more information, a list of recordings, and a schedule of upcoming performances, visit www.kriskeith.com or find him on Facebook.
People Filters: