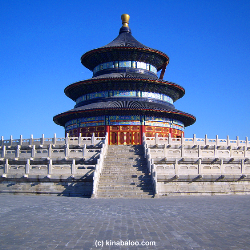 China Cultural Exchange Tour, March 7-17

Nearly 30 students from The Ohio State University - including the OSU Jazz Ensemble, dancers, and rappers - are in China March 7-17 to share their uniquely American art forms with audiences in cities and universities (and even an Embassy) throughout China. The endeavor is funded by a U.S. State Department grant and privately raised funds. The grant was awarded to the Center for American Culture collaboratively directed by Ohio State and Wuhan University (WHU) in Hubei Province, where students will perform, in addition to various other regions of China largely unfamiliar with the U.S. These include cities such as Nanning, Xinxiang, Shenyang, and Changchun.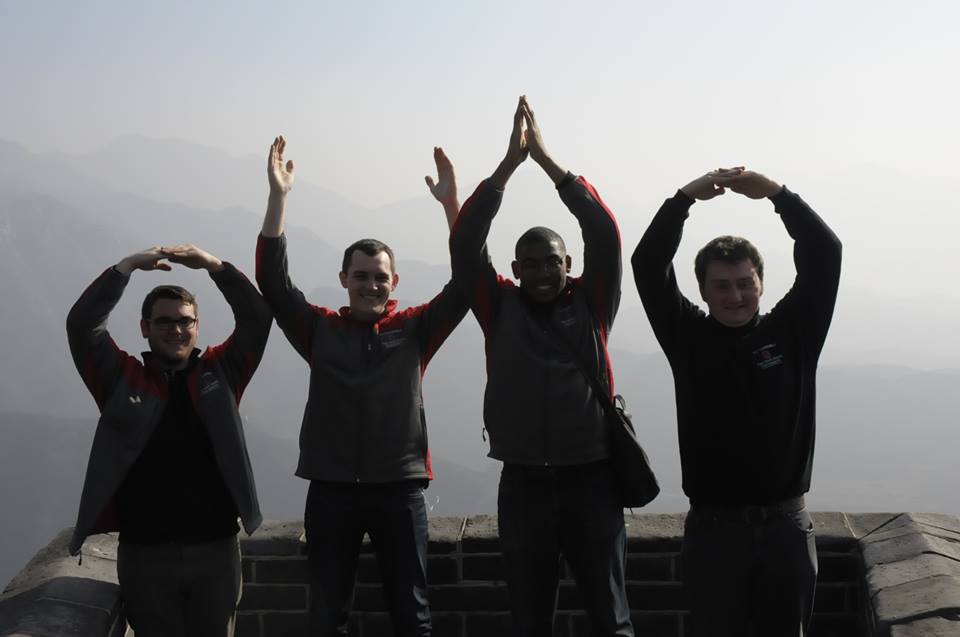 The grant proposal was led by Chris Carey, director of the Global Gateways initiative, and Bob Eckhart, executive director of the combined ESL programs, Department of Teaching and Learning, and director of the WHU-OSU Center for American Culture. "This program gives our students a chance to have a global audience, and promotes awareness of the arts programs at Ohio State, which are a great strength of our university and are not well known in China," Eckhart said.

The tours feature four contemporary dancers from the Department of Dance, who will perform a program of contemporary dance works that represent U.S. and western dance trends; twenty student musicians who comprise the Ohio State Jazz Ensemble; three members of the Ohio State Freestyle Rap and Beatbox Club; one Department of Theatre alumnus and his solo show about Muhammad Ali. They are accompanied by Eckhart; Susan Petry, chair, Department of Dance, and director of the program tour; Ted McDaniel, professor of music and director of the Jazz Ensemble; and Ashley Behrendt, business manager for the Global Gateways, assistant director of the WHU-OSU Center for American Culture.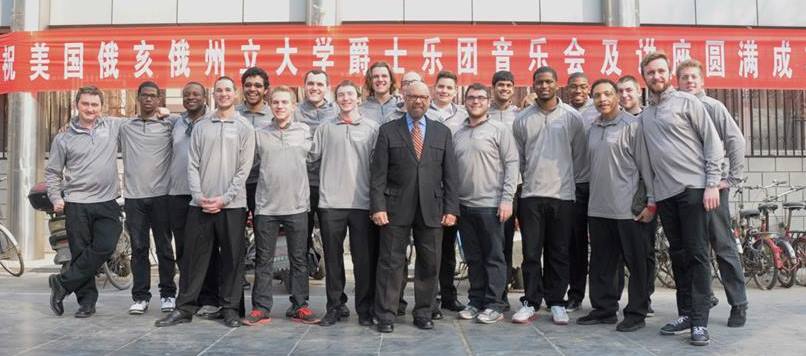 "Members of the OSU Jazz Ensemble are looking forward to sharing a range of American jazz styles, including ragtime and traditional, swing, bebop, funk, and contemporary, with our Chinese friends and associates as we learn more about each other's cultures and strengthen the bond between us," said McDaniel.

The groups are performing in separate appearances throughout China, with several opportunities to perform together. Some of their destinations include the Great Wall, Beijing, Xinxiang, Changchun and Northeast Normal University; Wuhan University, and Shanghai University. The beatbox club is expected to perform at the U.S. Embassy in Beijing.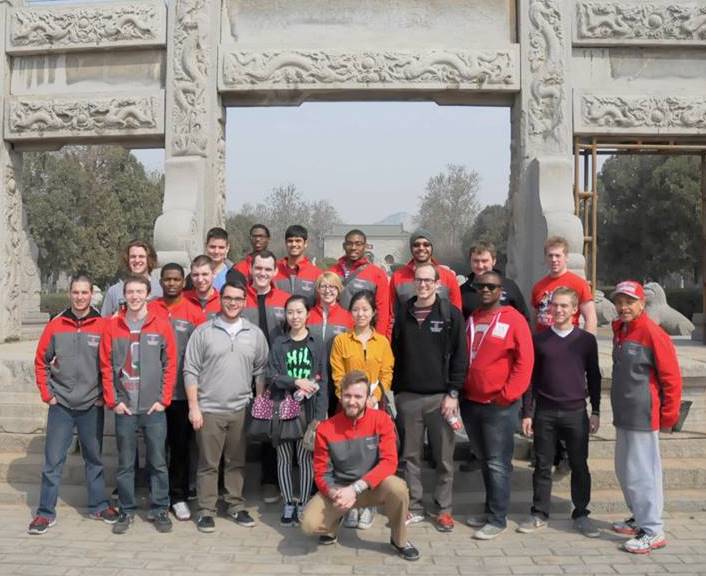 The trip itself is bound to be transformative. "This short study abroad experience, first of all, is an opportunity to represent this university," McDaniel said. "In effect, though, it is designed to create a stronger bond between the U.S. and China. The grant was focused on presenting American culture and arts to Chinese audiences, and what more American way is there to do that than with American jazz, American dance, and rapping?"

Ohio State's East Asian Studies Center contributed to the pre-departure orientation of Ohio State students and faculty.

In addition to State Department funding, the endeavor is supported by the Ohio State Global Gateways, Office of International Affairs, School of Music, Department of Dance, Office of Student Life, Office of Outreach and Engagement, Office of Diversity and Inclusion, and the College of Arts and Sciences.

Members of the Jazz Ensemble are Brian Carr, alto sax, junior (Centerville, OH); Marshall Farrell, alto sax, sophomore (Chattanooga, TN); Wes Perry, tenor sax, senior (Galena, OH); Merrick Morgan, tenor sax, freshman (Cincinnati); Faheem Najieb, baritone sax, senior (Cleveland); Zack Nellom, trombone, senior (Cincinnati); Elaine Mylius, trombone, junior (Cincinnati); Jacob Stegeman, trombone, freshman (Cincinnati); Will Kinney, trombone, senior (Ashland, OH); Mitch Filipiak, trombone, junior (Gurnee, IL); Todd Fessler, trumpet, senior (Grove City); Jason Deran, trumpet, senior (Schaumburg, IL); Matt Urbanek, trumpet, junior (Fairfax, VA); Aroh Pandit, trumpet, junior (Westlake, OH); John Vanderhoff, trumpet, sophomore (Pickerington); Robert Mason, piano, senior (Gahanna); John Allen, bass, junior (Dublin); John Suntken, drums, senior (Hudson, OH); Craig McMullen, guitar, senior (Columbus); and Gabriel Koempel, guitar, sophomore (Washington, DC).

The ensemble's performances consist of selections from a playlist that includes In a Mellow Tone, Duke Ellington; This is for Albert, Wayne Shorter; Nova Bossa, Michael Philip Mossman; Moten Swing, Buster and Benny Moten; Soupbone, John Clayton; Things to Come, Dizzy Gillespie and Gil Fuller; I Can't Stop Loving You, Don Gibson; One by One, Wayne Shorter; Higher Ground, Stevie Wonder; Oclupaca, Duke Ellington; Blue Minor, Sonny Clark; New Girl, Duke Pearson; Sanctified Blues, Wynton Marsalis; Eleanor Rigby, John Lennon and Paul McCartney; Moment's Notice, John Coltrane; Howdiz Songo?, Gordon Goodwin; Quietude, Thad Jones; I Left My Heart in San Francisco, George Cory and Douglass Cross.