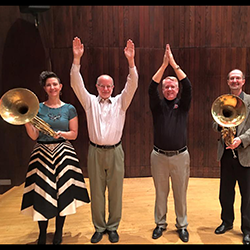 Associate Professor Bruce Henniss and members of the Ohio State Horn Studio hosted a rich and inspirational experience for horn players on November 11. The event, Corno-Rama, focused on the orchestral audition process and featured Henniss' colleagues in the Spectra Horn Quartet - Karl Pituch, principal horn, Detroit Symphony; Tod Bowermaster, third horn, St. Louis Symphony; and Denise Tryon, fourth horn, Philadelphia Orchestra.
Attendees learned what an audition committee is looking for, how each of these world-class players prepares an audition list and about their individual journeys toward full-time performing and teaching careers. During the master class portion of the day, four students from OSU and one student from CCM received instruction from all three guest artists.
The day concluded with the Spectra Quartet's open rehearsal of Schumann's Konzertstück in preparation for their appearance wtih the ProMusica Chamber Orchestra. Jenna McBride-Harris, horn studio GTA stated, "It is not every day that such talented and well-known players are gathered in one space, and the horn studio felt honored and inspired by their presence, instruction and performance! We are especially proud of Professor Bruce Henniss for all of his hard work in organizing Corno-Rama, moderating the event and for his performance in the quartet."