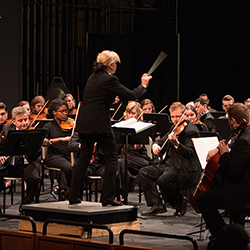 As a young violinist at Ohio State, Miriam Burns learned firsthand the value of performing as a soloist in an orchestra. "It was just so exciting to be in the middle of an orchestra as a soloist," Burns said. "It's a tremendous opportunity." Now serving as a visiting professor and director of orchestras in the School of Music, Burns runs the Ohio State Symphony Orchestra's annual concerto competition, which awards its winners an opportunity for that coveted soloist spotlight. This year, she knew she couldn't let the coronavirus ruin that opportunity.
Normally taking place in April (for doctoral students) and November (for undergraduate and master's students), the concerto competition winners earn a solo performance at an Ohio State Symphony Orchestra concert during the spring semester. Winning the competition, which dates back at least 35 years, provides students with a resume-building moment that can bolster applications for more advanced education and jobs.
Simply put, winning the concerto competition signals that a student is one of the best the School of Music has to offer.
Normally the winners' reward – that resume-building solo performance with the Ohio State Symphony Orchestra – takes place in one large concert toward the end of the spring semester. But this year, due to COVID-19 restrictions, Burns had to split the winners into four different, biweekly concerts starting Feb. 3. The winners and their performances are:
Feb. 3: Vanessa Klassen, clarinet, doctoral student
Feb. 17: Mathew Kinnear, violin, undergraduate
March 10: Louis Maligaya, clarinet, undergraduate and Logan Howe, clarinet, undergraduate
March 24: Isaiah Wu, cello, undergraduate and Jeremy Smith, trombone, doctoral student
One other doctoral student winner, Sunghwan Kim, will play his piano solo on a fall date to be determined.