Monday, March 5, 2018 -

4:00pm

to

5:30pm
18th Ave. Library, 175 W. 18th, Room 205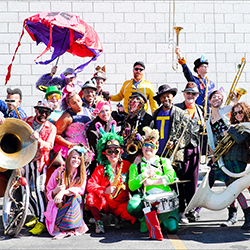 Erin T. Allen, musicology, presents Ethnography, Brass Bands and the Ethics of Engagement in American HONK Street Band Festivals.
In 2006, The HONK! Festival of Activist Street Bands—an independent, grassroots and non-commercial festival—began in Somerville, MA through the efforts of a local street band called the Second Line Social Aid and Pleasure Society Brass Band. Their aim was to gather together street bands who share similar musical repertoires, performance practices and political philosophies in order to share their music and facilitate dialogue about the role and practices of brass bands in civic and political life. In the ensuing years, eight other cities across the U.S. and four international cities in Australia and Brazil have been inspired to host their own HONK! Street Band Festivals, contributing to the growth of an emergent international network of brass band musicians, educators and activists. Allen's work addresses how civic and political practices musically manifest in a public sphere characterized by its diversity, inequality and shifting forms of identity and belonging. She investigates the ethical, moral and existential possibilities and risks for civically engaged and politically oriented performance. In song and dance, at public squares and in the streets, through the use of loud, acoustic and mobile instruments, musical practices at HONK festivals have the performative potential for mobilizing bodies, affect and ideas to facilitate civic and political engagement, to foster empathy and to shape ethical practice and critical thought.

In this presentation, Erin Allen will address her experiences of completing multi-sited ethnographic inquiry as she follows the cycle of HONK festivals throughout the year across eight American cities in order to develop an understanding of HONK as a mobile musical scene and musical activist network that comes together in the event of each festival. Musical mobility and the politics of circulation impact not only how musical repertoires and performance practices circulate internationally and manifest locally in order to facilitate civic and political engagement in distinct cities across the U.S., but also influence the speaker's understandings of contemporary fieldwork. What are the possibilities and risks of punctuated multi-sited engagements in sound and what might rigorous and responsible ethnography look like in a transnational musical circulatory system?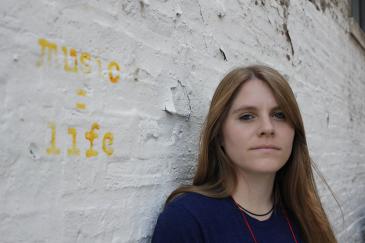 Erin T. Allen is a PhD candidate in Ethnomusicology at The Ohio State University. She earned her Bachelor of Music degree at the University of Notre Dame with an emphasis on trumpet performance. Following this she earned a post-baccalaureate certificate in Anthropology from Northwestern University. Her dissertation focuses on the role of music in civic and political action, its capacity to generate musical sociability and political community, and its potential to call attention to particular causes and encourage civic participation and responsibility. As a trumpet player in the activist brass band scene that Allen researches, she is committed to the social justice causes, educational initiatives and the disenfranchised communities that they support. Erin has received several competitive departmental fieldwork grants to complete her research as well as funding from The Ohio State University College of Arts and Sciences, the OSU School of Music, and the American Studies Association to present papers at the annual meetings of the Society for Ethnomusicology and the American Studies Association at both the regional and national levels.
---

Lectures in Musicology is co-sponsored by The Ohio State University Libraries.
Lectures are held Mondays at 4 p.m. in the 18th Avenue Library, 175 W. 18th Ave. (Music/Dance Library, second floor, room 205). These events are free and open to the public.
Campus visitors, please use either the Tuttle Park Place Garage or the Ohio Union South Garage. All other garages in the vicinity of the 18th Ave. Library are closed to visitors before 4 p.m.