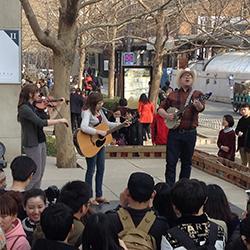 Cognitive ethnomusicologists at The Ohio State University collaborated with researchers from Durham University in the UK to conduct leading research, published in early April, about how music brings people together (the social power of music).

Researchers at Ohio State included Professor Udo Will, School of Music alumni Ira Wertheim (MA, 2012) and Eric Berg (MA, 2004); their UK colleagues were Martin Clayton and Laura Leante. Their findings were published in the international, peer-reviewed online journal Plos One. "Music has the wonderful power of bringing people together, be that at rituals, ceremonies, or concert performances," said Will. "Music seems to serve as a unifying force by bringing about a sense of shared experience. But what is it in the music that makes this happen?"

The researchers investigated this question by analyzing the bodily responses of listeners to regularly timed (music with a 'strong beat') and to irregularly timed music (with a weak or no obvious beat). As stimuli they used introductory sections of Indian classical music that contained both types of music. Read more in ASC News.