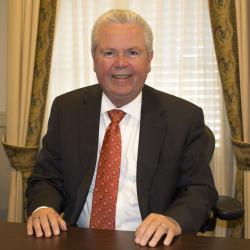 William L. Ballenger has been appointed to serve as director of the School of Music at The Ohio State University. His appointment begins on July 1, 2017.

Ballenger previously served as director of the School of Music at Texas Tech University since autumn 2004. Prior to his appointment there, he served for 12 years as department head of music at Oklahoma State University.

"As Ohio State continues to make the visual and performing arts a centerpiece at the university, we look forward to William's leadership and involvement with our students, faculty and alumni in the School of Music," said David Manderscheid, executive dean and vice provost for the College of Arts and Sciences.

"I am absolutely energized for the opportunity to join the faculty and staff in the work of the School of Music and our College," Ballenger said. "And I cannot wait to meet the students and learn more about the many programs and classes offered there."

He also indicated that he was looking forward to learning about the accomplishments by the faculty, students and programs, and said, "We will explore the challenges that lie ahead, and together we will create our path forward."

Peter Hahn, divisional dean for arts and humanities in the College of Arts and Sciences, also praised Associate Professor David Bruenger for his superior leadership during the past year as interim director for the School of Music. He had taken on that role following the retirement of Richard Blatti.

Hahn added, "We are delighted to welcome William Ballenger and his wife Cathy to our School of Music and the Columbus community, which is well known for its rich arts and music scene."

Ballenger has previously served as associate director of bands at Oklahoma State University, as associate director of bands at the University of Nebraska-Lincoln, and in public school teaching positions in Ankeny and Oskaloosa school districts in Iowa.

He has written more than 75 original compositions and arranged more than 600 works for various ensembles. In 2012 Ballenger was elected president of the Texas Association of Music Schools (TAMS). Previous appointments include TAMS president-elect, and TAMS director of the four-year state-supported schools (2009). He remains active in the National Association of Schools of Music (NASM). In 2010 he was appointed to serve on the Nominating Committee of NASM. Previous NASM appointments include chair and vice chair of Region 9, Chair of the Ethics Committee, and member of the Nominating Committee.