August 11, 2023
Hip-Hop Turns 50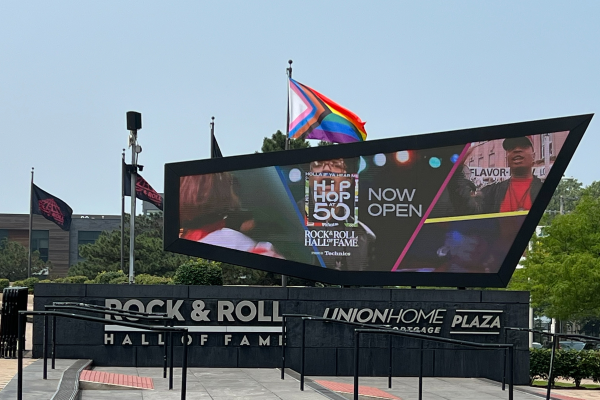 August 11, 1973. 50 years ago today, hip-hop was born at a back-to-school party in the Bronx when 18-year-old Clive Campbell (aka DJ Kool Herc) experimented with some new moves on dual turntables.
Any of these merry-go-rounds would have formed just a tiny part of his Aug. 11, 1973 set. But for dancers, what was once just a six-second drum solo could now last a lot longer.
Learn how it all started, or so they say.
But, there's more to the story as Judson L. Jeffries, Professor of African American and African Studies explains in this opinion piece in The Columbus Dispatch. 

Artists and concertgoers have been celebrating all year. From Los Angeles to Yankee Stadium where a star-studded lineup will take the stage tonight, those experimental beats at a kid's block party have grown into an art form with global reach. Yet, it remains and thrives by remaining local, with each locale forming and retaining its own unique style. 
 
The Rock & Roll Hall of Fame in Cleveland launched its own Hip Hop at 50 celebration with in-depth exhibits and educational resources featuring handwritten lyrics; some of the earliest gear used to create a hip-hop beat; iconic artifacts; features on everything from the moguls to the social issues; from East coast to West coast and everything in between.
At a time when the world was undergoing massive social and economic changes: beats, rhymes, movement, and art all combined to form what became known to the world as hip-hop, a genre that in its five decades of existence has transformed itself and our culture at large.
At this iconic time, the School of Music at Ohio State is unveiling its own hip-hop studies offerings in collaboration with the Department of African American and African Studies. The first two faculty members appointed are educators and music producers Stevie "Dr. View" Johnson and Jason Rawls, aka "J. Rawls".


For a long time, schools have primarily given focus to what's called the Western European classical tradition," said Michael Ibrahim, director of the School of Music. "(Hip-hop) is really a small taste of the whole story, especially about contemporary life and American culture and popular music.
Johnson attended the University of Oklahoma, where he received multiple degrees, including a doctorate in higher education administration. He also became a DJ. He said he found his niche in academia, translating hip-hop into education to fight for justice and equity. Johnson has been the manager of both the Bob Dylan Center and Woody Guthrie Center in Tulsa, Oklahoma. He also developed multimedia project "Fire in Little Africa" to commemorate the 1921 Tulsa Race Massacre centennial. The project included a documentary, a podcast curriculum, and an album released on Motown Records.


A Columbus native and educator with over 30 years of teaching experience, Rawls has presented workshops on the music industry, hip-hop education and beat-making at several major universities around the country. He has produced and collaborated with artists including Mos Def, Talib Kweli, Beastie Boys, Aloe Blacc and King Combs (Sean "Diddy" Combs' son). And he has released a number of solo and collaborative albums. Most recently, he and fellow educator John Robinson created multimedia project "Youth Culture Power," which included an album and a book to help teachers embrace hip-hop culture in the classroom.


**Photos taken at the Rock & Roll Hall of Fame "Hip Hop at 50" exhibit unveiling.
 
---