Wednesday, March 21, 2018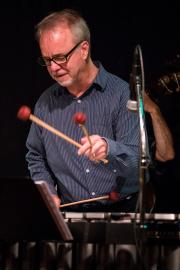 Rusty Burge joined the Cincinnati College-Conservatory of Music faculty in 1992 as a member of Percussion Group Cincinnati, with whom he has performed extensively throughout North America, Europe and Asia. Recent performances include the Japan World Drum Festival, Chinese International Music Festival, Taipei International Percussion Convention, the Ravinia Festival, Merkin Hall in New York City and the International Percussion Convention. He has recorded with the Group for the Mode, Centaur, Einstein and Ars Moderno labels. The Group has also made concerto appearances with more than twenty different symphony orchestras. He was formerly principal percussionist with the West Virginia Symphony and plays extra with the Cincinnati Symphony. He received his undergraduate degree from the Eastman School of Music and a master's degree from CCM. Professor Burge teaches percussion, jazz vibraphone and directs the CCM Steel band. He is an active jazz vibraphonist who has recorded for Summit, J Curve Records, Human Records and Telarc. Recent jazz performances with Ted Nash, Rich Perry, Peter Erskine, Dave Liebman, Rufus Reid, Steve Allee, Steve Houghton, Roland Vazquez, Michael Spiro and Jim Rupp. Recent performances at the 2016 PASIC Convention, the 2016 Midwest Clinic and the 2017 JEN Convention with the BAHA Quartet (Burge, Allee, Houghton and Allen). His latest recordings are Faraway (with Steve Allee) and Driftin' with Steve Houghton, Steve Allee and Jeremy Allen.
Thursday, March 22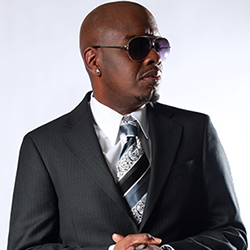 Quan Howell's deep-rooted passion for the arts has afforded him opportunities beyond singing into the roles of producer, thespian and songwriter. Howell, a Columbus native, began his early musical training in the church and at Fort Hayes Performing Arts School where he majored in music theory, jazz, piano and show tunes. Dreaming of a gospel musical career, he moved to Los Angeles for a short time. He received his first professional break in 1995 when he was encouraged to audition for the group Sounds of Blackness and won the lead singer spot. This opportunity led to additional work including singing backup with Ann Nesby, Rod Stewart, Johnny Gill, New Edition, Salt 'n' Pepa, Kirk Franklin, Tamela Mann and others. Howell also sang on movie soundtracks for How Stella Got Her Groove Back, Down in the Delta, The Apostle and for acclaimed movie producers Andrew Lloyd Webber and Walt Disney. Howell continues as an active artist, primarily in the area of gospel music and performs with The Columbus Jazz Orchestra. His creative ability to empower people emotionally, spiritually and physically continues to propel his career to new heights.
Friday, March 23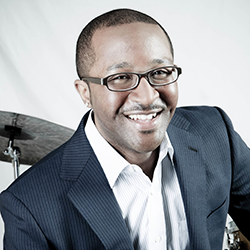 Grand Rapids, Michigan native Quincy Davis came from a musical family and enjoyed very early musical training on drums and later on trumpet and tuba. • He attended the Interlochen Arts Academy (IAA) during high school where he studied classical percussion as well as trap set drumming and had his first experience playing with a jazz band. Davis then attended Western Michigan University where he studied with drum master, Billy Hart. During his college years he played at various collegiate jazz festivals where notable musicians like Benny Green, Bunky Green, Jon Faddis, Roy Haynes, Carl Allen, Louis Hayes and Wallace Roney heard and recognized Davis' talents with written accolades and awards. • Following college graduation, Davis taught elementary and middle school instrumental music in the Grand Rapids area before moving to New York City. In the New York jazz scene, Davis played with artists such as Wynton Marsalis, Frank Wess, Russell Malone, Eric Reed, Paquito D'Rivera, Kurt Elling, George Coleman, Eric Alexander, Mike Ledonne, Lew Tabackin, Vanessa, Rubin, Warren Vache, Ron Blake, Jon Faddis, Gerald Clayton, Clayton Brothers, Peter Berstein, David Hazeltine, Roy Hargrove, Randy Johnston, Laverne Butler, Paula West, Nicholas Payton, New York Voices, Ryan Kisor and Wessell Anderson. • Quincy Davis can be heard on over 30 albums playing with many notable jazz artists including Tom Harrell, Gretchen Parlato, Bobby Watson, Benny Golson, Ted Rosenthal, Marcus Printup, Dave Stryker, Walt Weiskopf, Stefon Harris, Benny Green, Aaron Diehl, Bobby Watson, Xavier Davis, Danny Grissett, Vincent Gardner, Frank Wess, Darmon Meader, Sachal Vasandani and more. • In 2014 Davis released his debut recording, Songs In the Key of Q which, in its second week after release, reached the top 5 of Jazz Week's jazz chart of new jazz recordings. • After seven years at the University of Manitoba (Canada), Davis is assistant professor of jazz drum set at the University of North Texas.
Saturday, March 24 • Headline Concert
Donald Harrison, born in New Orleans, grew up in an environment saturated with the city's traditional brass bands, Afro-New Orleans culture, modern jazz, R&B, funk, classical, world and dance music. He has deep roots in a new American style of African culture developed in New Orleans. He created "Nouveau Swing," a style of jazz that merges it with modern dance music. He also combined jazz with Afro-New Orleans traditional music on his critically acclaimed and influential albums Indian Blues and Spirits of Congo Square. Harrison has performed and recorded in a variety of genres with numerous artists including Art Blakey, Roy Haynes, The Cookers, McCoy Tyner, Miles Davis, Lena Horne, Ron Carter, Billy Cobham, Eddie Palmieri, Jennifer Holiday, Dr. John, Guru's Jazzmatazz, McCoy Tyner, Dr. Lonnie Smith, Digable Planets, Notorious BIG, The Chicago Symphony Orchestra and The Louisiana Philharmonic Orchestra. An evacuee/survivor of Hurricane Katrina, Harrison had a prominent role in Spike Lee's HBO documentary, When the Levees Broke. He also appeared and co-wrote the sound track for Academy Award winning director Jonathan Demme's feature film, Rachel's Getting Married. Aspects of Harrison's life and music are chronicled with two characters in David Simon's groundbreaking HBO series, Treme. Harrison recorded Quantum Leap, which melds cutting-edge jazz with New Orleans funk, connecting the past to the present with jazz music that transcends boundaries. He recorded his first classical orchestral composition, Congo Square Part I with the Moscow Symphony Orchestra. Donald Harrison is co-founder and artistic director of the Tipitana's Intern Program, an after-school program for high school students interested in pursuing music as a career. Harrison's awards include France's "Grand Prix du Disque" (twice), Switzerland's "The Ascona Award," Japan's Swing Journal "Alto Saxophonist of the Year," The Jazz Journalist Association's "A List Award," 2012 New Orleans Civic Award, 2007 Jazziz Magazine's "Person of the Year," the Big Easy Music Awards "Ambassador of Music" and a Downbeat Magazine's Alto Saxophone Poll winner. He was also a 2006 resident at William and Mary College, a 1995 "Meet The Composer" recipient and a 2012 Grammy nominee.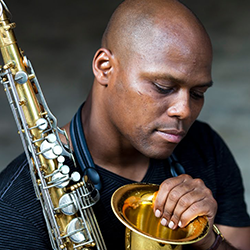 Hailed by the New York Times as "a tenor saxophonist with an enigmatic, elegant and hard-driving style," J. D. Allen is a bright rising light on today's international jazz scene. His unique and compelling voice on the instrument—the result of a patient and painstaking confrontation with the fundamentals of the art—has recently earned Allen a blaze of critical attention signaling his ascension to the upper ranks of the contemporary jazz world. Originally from Detroit, Allen's apprenticeship, anchored by his lengthy tenure with Betty Carter, occurred largely in New York, where he worked with legends Lester Bowie, George Cables, Ron Carter, Louis Hayes, Frank Foster Big Band, Winard Harper, Dave Douglas, Cindy Blackman, Butch Morris, David Murray, Wallace Roney, Rufus Reid and Geri Allen. • In 2008 Allen began an association with Sunnyside Records, which released I AM — I AM featuring Gregg August (bass) and Rudy Royston (drums) and garnered rave reviews from the New York Times (Ben Ratliff's Playlist), Time Out NY (music cover), All About Jazz, Jazzman, Jazz Wise and Downbeat. That year Allen appeared on NPR's Jazz Perspectives, WNYC's Soundcheck and WKCR's Musician's Show. Allen was named "Rising Star" in Downbeat's 2011 Critic's Poll as well as a finalist in the 2010, 2009 and 2008 polls. • In 2009 Allen released another Sunnyside recording, Shine! which seems to have detonated the trail of musical gunpowder he had long been putting down. He received TOP 10 ALBUM OF THE YEAR in over 25 publications worldwide including NPR's Top 5 Albums of 2009, JazzTimes' Top 50 Albums of 2009, Village Voice #9 Jazz Album of the Year, Boston Globe Top Jazz Album of the Year 2009. Praise for the album led Lorraine Gordon, owner of the historic Village Vanguard to invite him and his trio for a weeklong stint. The engagement was met with relentless coverage from the cultural press including Time Out New York, WNYC's Leonard Lopate Show, Ben Ratliff on WBGO's Josh Jackson show, and the New York Times. Allen's final trio record with the Sunnyside label, Victory! garnered director Mario Lathan's biographical short film on Allen, the 2011 Jazz Journalist Association (JJA) award for Best Short Film and has received worldwide recognition including a feature on NPR's First Listen, an in-depth piece in the June issue of JazzTimes and 4 stars from Downbeat. • In 2012 Allen began his association with Savant Records, releasing The Matador and The Bull (2012), Grace (2013), Bloom (2014), Graffiti (2015), Americana (2016) and Radio Flyer (2017), which are earning Allen considerable recognition in notable publications such as the New York Times, The Atlantic, NPR, Downbeat and JazzTimes.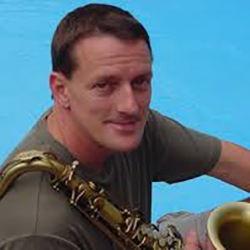 Dr. Michael Cox is a tenured professor of saxophone and jazz studies at Capital University in Columbus, Ohio, where he has taught since 1990. While teaching at the collegiate level, Michael has maintained a continuous schedule as a professional ensemble player and soloist; he is also highly respected as a clinician, having appeared in over half the continental United States as well as Germany, Denmark, Spain and most recently Shanghai, China. Michael is a member of the Columbus Jazz Orchestra; the Columbus, Lancaster and Newark Symphony Orchestras; and the ProMusica Chamber Orchestra. He has been featured in concerto performances in Kansas, Colorado and Ohio, and performs in such diverse groups as Brasileira, the Black Swamp Saxophone Quartet, the High Street Stompers Dixieland Jazz Band and the jazz/rock/funk/fusion band Flippo. Michael's educational credentials include a Doctor of Arts degree in saxophone performance/pedagogy and jazz pedagogy from the University of Northern Colorado (1996), a Master of Music in performance from Wichita State University (1986), and a Bachelor's degree (1983) and Distinguished Alumni Award (2000) from Cameron University in his home town of Lawton, Oklahoma. Michael pursued independent studies with jazz luminaries Joe Lovano and David Liebman, mentored with IAJE Hall of Fame educator Gene Aitken, and concentrated on performance study with saxophone professors Roger Greenberg and Jean Lansing and woodwind professor David Pickthorn. Cox has just released Compassion (CoJazz CJ-1047), his second jazz recording as a leader featuring bassist Buster Williams, drummer Matt Wilson and keyboardist Gary Versace, and previously released Abstractions, Dedications and Red Dirt with Wilson and the late bassist Dennis Irwin. As a classical soloist, Michael Cox has recorded a collection of pieces by French composer Pierre-Max Dubois.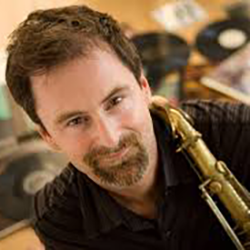 Critics have called saxophonist Pete Mills' playing "virtuosic" and "gorgeous" and "versatile tenor-kick-butt" (David Franklin, JazzTimes) and the Columbus Dispatch describes Mills' compositions as being "impressive with solos that are ear opening...with a tone that is big and rich." His discography includes 4 releases as a leader, 2014's Sweet Shadow featuring Matt Wilson, Pete McCann, Martin Wind and Erik Augis, released on the Vancouver-based Cellar Live Records; 2007's Fresh Spin featuring B3 organist Tony Monaco and Pete McCann (3½ stars, Downbeat magazine) and Art and Architecture (4 stars, All Music Guide) that also featured Matt Wilson, Pete McCann and the late bassist, Dennis Irwin. Mills' first solo release was the acclaimed Momentum (COJAZZ Records). A native of Toronto, Canada, Mills has received grants from The Canada Council and was a recipient of the North Carolina Arts Council Jazz Composer's Fellowship. As a sideman he appears on over a dozen CDs. Mills performs regularly throughout the U.S. and Canada; in Columbus, Ohio he is a featured soloist with The Columbus Jazz Orchestra (Byron Stripling, musical director). Pete holds degrees from the Eastman School of Music and The University of North Texas and currently is coordinator of Jazz Studies at Denison University. Visit www.petemills.com.
Guest Speaker
Professor Emeritus Ted McDaniel, Professor of African American Music at The Ohio State University since 1981, is a specialist in jazz history, jazz performance and African American music. He retired in 2015 after teaching at Ohio State for 35 years. Dr. McDaniel held faculty appointments in both the School of Music and the Department of African American and African Studies, where he served as department chair for eight years. His scholarly and creative writings were mostly on aspects of jazz and black music, and he was invited to lecture extensively throughout the U.S. and to present in Africa, Europe and China. • McDaniel was director of Jazz Studies from 1983–2015 and directed the OSU Jazz Ensemble from 1990–2015. His leadership of the Jazz Ensemble led to performances throughout Ohio and the United States. They also took five international tours—European tours to France, Switzerland, Austria, Germany, Italy and the Netherlands, where they performed at the leading jazz festivals and other sites; Canada tour to Seattle and Vancouver, British Columbia; and most recently in 2014 to China for a U.S. State Department-sponsored tour with performances in Beijing, Xinxiang, Wuhan and Shanghai through the Center for American Culture. Additionally he led the administrative team for the annual OSU Jazz Festival, annual summer Jazz Camp, and the occasional Jazz Symposium. • McDaniel's numerous music arrangements represent a diverse portfolio but are primarily for jazz bands, R & B groups and marching bands. He has written music for the Sesame Street TV show and has served as an arranger for the OSU Marching Band since 1981, where his music has been performed at every Big 10 stadium and at major bowl games. In autumn 2013, his music arrangements of the Michael Jackson halftime show for the OSU Marching Band were viewed by over 15 million persons on YouTube. He has written music for performances in the Rose Bowl, Sugar Bowl, Orange Bowl, Fiesta Bowl and at National Championship sites. He has also written arrangements for other colleges and universities. • Among his many awards in recognition for his contributions to the field of music, McDaniel was the recipient of the Distinguished Teaching Award (1987) and the Distinguished Scholar Award (1994) from the OSU School of Music, as well as the Distinguished Diversity Enhancement Award (2000) and the Faculty Award for Distinguished University Service (2011) from The Ohio State University. • In 2006 the Alpha Phi Alpha Fraternity, Inc. commissioned him to write new music in commemoration of their Centennial celebrated in Washington, DC. In 2011 he served as a music conductor and music arranger for the dedication of the Martin Luther King Jr. Monument on the Mall in Washington for the Constitution Hall Concert. He also served as music consultant for the film on the MLK Monument entitled Building the Dream that debuted on Public Television stations nationally in summer 2013. He is a music scholar on blues and jazz, and consultant for the new African American Music Museum currently under construction in Nashville, TN. • McDaniel received his BA degree from Morehouse College, and MA and PhD degrees in music from the University of Iowa. A native of Memphis, Tennessee, he previously taught at Morehouse College and North Carolina A & T State University. He continues to be active as a scholar, teacher, arranger, conductor, clinician and adjudicator in African American music and jazz education circles.
Sunday, March 25 • Closing Concert
For guest artist bios, visit Jazz Ensemble presents "The Music of Ladd McIntosh"
---