Image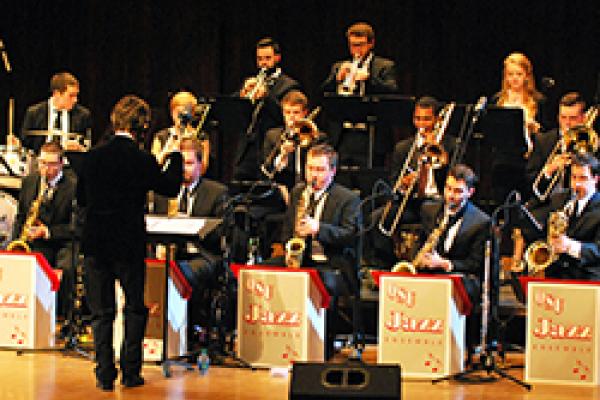 March 25, 2018
All Day
Location
Weigel Auditorium
Description
For the closing concert of the 41st Annual Jazz Festival, The Ohio State University Jazz Ensemble welcomes back guest artist, composer and arranger Ladd McIntosh to conduct the band.
This performance features a small portion of Mr. McIntosh's vast repertoire for big band, as well as a few guest alumni members from the award-winning 1967 band—The Ohio State University Jazz Workshop Band—with Wes Orr on trumpet and Byron Rooker on woodwinds. Also featuring Hal Rosenfeld, drums and Kristopher Keith, flute.
This concert is free and open to the public. No ticket required.
Live stream broadcast begins at 8 p.m.
---
Ladd McIntosh has orchestrated music for 133 major motion pictures. His expertise in orchestration continues a long career as a jazz composer, arranger, educator, publisher and big band leader. As a student at Ohio State, he gained national attention in the 1960s with his composing/arranging skills. He won best jazz composer awards at five major college jazz festivals and was the subject of articles in Downbeat and The New York Times. McIntosh organized, conducted and wrote the entire library for the Ohio State Jazz Workshop Band which won first place at the first American College Music Festival (Miami Beach, 1967), where he also won the Duke Ellington Composer Award. After a brief stint playing in Las Vegas show bands, McIntosh returned to Ohio State and finished his master's degree. He then served as visiting assistant professor of Jazz Studies at the University of Utah, then as director of Jazz Studies at Westminster College. He taught at the Dick Grove Music School, California State University-Northridge, Henry Mancini Institute and published over 100 compositions, performed across the U.S. and worldwide. He has received numerous commissions to write works for college and high school jazz bands, and led the All-Star High School Jazz Band at the Monterey Jazz Festival for six years. The Ladd McIntosh Big Band roared to life in 1980, enjoying a reputation for excitement, musicality and great soloists. McIntosh composed or arranged the entire library. In 2007, McIntosh was named Alumnus of the Year by The Ohio State University School of Music, and was awarded the Music Citation by the Ohioana Library. He established the Ladd McIntosh Swing Orchestra which plays classic swing music from the 1930s and '40s plus his own arrangements of standards from the Swing Era. Above, at 2017 Jazz Festival: McIntosh receives award celebrating 50 years of inspiring leadership in jazz. With Kris Keith, Jazz Ensemble director.

taught in the Columbus Public Schools for 31 years, in Reynoldsburg City Schools, and at Otterbein College; served as choir director at Church of the Redeemer United Methodist Church for 14 years. He earned his BA in Music Education at Capital University and the MA in Music Education at The Ohio State University. In the 1970s, Wes Orr and Ray Eubanks wanted to form a big band consisting of the best jazz musicians in the area — what would become the Jazz Arts Group — now the Columbus Jazz Orchestra. Orr has played lead trumpet for the group since its inception. He has played in many bands through the years, including the Al Waslon Orchestra, Ernie Krivda Fat Tuesday Big Band, Chad Rager Groove, Ju Ju Bees Rhythm Review and the Cleveland Jazz Orchestra. Orr has played with many noteworthy musicians including Paul Anka, Bob Hope, Barry Manilow, Sammy Davis Jr., Jerry Lewis, Lena Horne, Doc Severinsen, Natalie Cole, Maynard Ferguson, Jiggs Whigham, Ken Peplowski, Rosemary Clooney, Carmen Bradford, Maureen McGovern, Jack Jones, and Wes' favorite, Clark Terry. Orr toured with Ken Peplowski's Big Band and with the Broadway musical Wes OrrJersey Boys. He served as Secretary-Treasurer for Local 103 Federation of Musicians for several years, and was also inducted into the Columbus Senior Musicians' Hall of Fame in 2003.

earned a Bachelor of Music in clarinet performance from Capital University. Although his focus was classical performance, he also studied jazz saxophone, arranging and piano with Dave Wheeler. During the Vietnam War, Rooker was stationed in Berlin and played in the Army Band. Later, he toured briefly with Paul Anka and Doc Severinsen. Rooker has played with the Columbus Jazz Orchestra since its foundation in 1973. A versatile musician, he also performs in a guitar/flute duo with Stan Smith, the JuJu Bees, a rock 'n' roll band and with the small jazz ensemble, Standard Time. Considered to be one of Columbus' most accomplished musicians, he is a "super sub" filling in with numerous bands in all styles. Byron Rooker

is a percussionist, composer, arranger and orchestrator whose work can be heard in over 50 films, television shows and video games. Rosenfeld got his start working for noted composer/arranger Gordon Goodwin, as well as under the mentorship of legendary orchestrator Ladd McIntosh and percussionist Bernie Dresel. He received his degree in Media Composition from CSU Northridge after studying orchestral and jazz percussion at Florida State University, and has gone on to apply his talents to projects for such luminaries as Elton John, Glen Ballard, Hans Zimmer, Lorne Balfe, Joseph Gordon-Levitt, Joseph Trapanese, Nathan Johnson, Rob Simonsen, Clipping, Daveed Diggs, Watsky, Engelbert Humperdinck, and Academy Award-winner Justin Hurwitz. As both a drummer and percussionist, Rosenfeld can be heard on projects including Hal RosenfeldThe Greatest Showman, Netflix's A Series of Unfortunate Events, ABC's The Mayor, and the Robert De Niro/Zac Efron film Dirty Grandpa. As a composer, arranger and orchestrator, he has contributed to Unsolved: The Murders of Tupac and the Notorious B.I.G., Quantico, Need for Speed Payback, Apple's iOS Photos app, and China's highest-grossing film of all time, Wolf Warrior 2. Rosenfeld is currently the house band drummer for the Daytime Emmy Awards; in 2017, he traveled to over ten countries performing with Indian pop sensation, Vidya Vox. Rosenfield currently lives in Los Angeles.
 
Events Filters:
---