Wednesday, November 14, 2018 - 8:00pm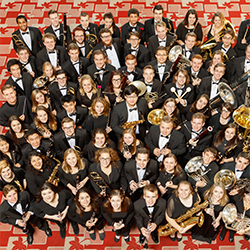 Celebrating the 150th anniversary of the Meiji Restoration in Japan — the birth of modern Japan. All selections are by Japanese composers or inspired by Japan — A Prelude to the Shining Day, Yo Goto; Symphony IV: Bookmarks from Japan, Julie Giroux; Fantasy on Sakura, Sakura, Ray E. Cramer; Passacaglia for Symphonic Band, Bin Kaneda; Gloriosa, Yasuhide Ito. Scott A. Jones, conductor; doctoral associates Michael Weintraub and Alexander Gonzalez, guest conductors.
This concert is free and open to the public. No ticket required.
Livestream broadcast begins at 7:45 p.m.