Image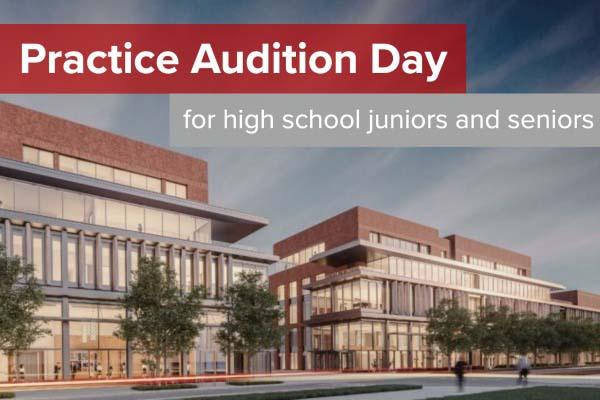 October 7, 2022
8:30AM - 4:00PM
Location
Timashev Building, 1900 College
Date Range
Add to Calendar
2022-10-07 08:30:00
2022-10-07 16:00:00
Practice Audition Day
A special event for high school juniors, seniors and their parents. Students considering music as a major in college are encouraged to take this opportunity to meet Ohio State School of Music faculty and administrators, participate in studio classes and have a practice audition evaluated by faculty. Online registration is required. Visit Practice Audition Day for details and to register. All events are subject to change. GETTING HERE While the new building for Theatre, Film and Media Arts remains under construction, the North side of the Timashev Music Building remains closed.  Park in the Ohio Union South Garage (open to visitors 24/7), walk North along College Rd. to enter the South doors of the Timashev Music Building. Driving and Parking Instructions 
Timashev Building, 1900 College
OSU ASC Drupal 8
ascwebservices@osu.edu
America/New_York
public
Date Range
Add to Calendar
2022-10-07 08:30:00
2022-10-07 16:00:00
Practice Audition Day
A special event for high school juniors, seniors and their parents. Students considering music as a major in college are encouraged to take this opportunity to meet Ohio State School of Music faculty and administrators, participate in studio classes and have a practice audition evaluated by faculty. Online registration is required. Visit Practice Audition Day for details and to register. All events are subject to change. GETTING HERE While the new building for Theatre, Film and Media Arts remains under construction, the North side of the Timashev Music Building remains closed.  Park in the Ohio Union South Garage (open to visitors 24/7), walk North along College Rd. to enter the South doors of the Timashev Music Building. Driving and Parking Instructions 
Timashev Building, 1900 College
School of Music
music@osu.edu
America/New_York
public
Description
A special event for high school juniors, seniors and their parents. Students considering music as a major in college are encouraged to take this opportunity to meet Ohio State School of Music faculty and administrators, participate in studio classes and have a practice audition evaluated by faculty.
Online registration is required. Visit Practice Audition Day for details and to register.
All events are subject to change.
---
GETTING HERE
While the new building for Theatre, Film and Media Arts remains under construction, the North side of the Timashev Music Building remains closed. 
Park in the Ohio Union South Garage (open to visitors 24/7), walk North along College Rd. to enter the South doors of the Timashev Music Building.
Events Filters:
---