Wednesday, March 22, 2017
to
Sunday, March 26, 2017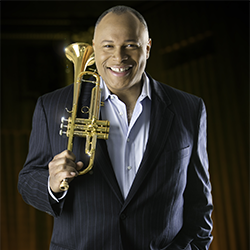 Five days of events celebrating America's musical art form with faculty and student ensemble performances, headliner performances, master classes, workshops for high school students and High School Jazz Band Day.
All events are free and open to the public.
< Byron Stripling, artist-in-residence and Jazz Festival headliner, will present master classes on March 8 and 20 in Hughes Hall.
Louis Armstrong and Dizzy Gillespie, March 8, 7 p.m.
Music Business, March 20, 11:30 a.m.
The Birth of the Blues, March 20, 7 p.m.
Wednesday, March 22 - 8 p.m.
Bobby Floyd Trio and Bryan Olsheski, saxophone. Both appear regularly with the Columbus Jazz Orchestra. Floyd appears with distinguished orchestras including the Boston Pops and is currently the feature pianist for the legendary Count Basie Orchestra. Olsheski has performed world-wide as featured soloist for The Temptations, Steve Winwood and others. He is currently on the jazz faculty at Capital University.
Thursday, March 23 - 8 p.m.
Ohio Show Band. The newly formed Ohio Show Band is a commercial music ensemble that performs contemporary music with concert-style production elements. This program, will include Top 40, gospel, folk and R&B selections.

Friday, March 24 - 8 p.m.
Ohio Jaztet with guest artist Vincent Chandler, trombone. The Ohio Jaztet features Anthony Stanco, trumpet; Shawn Wallace, saxophone; Kevin Turner, guitar; Andy Woodson, bass; and Jim Rupp, drums. The group welcomes Vincent Chandler, known as a uniquely expressive trombone soloist, a versatile sideman, and innovative composer and arranger.
Prior to the concert, Chandler will give a master class, A Study in Improvisational Motion, 6:30-7:30 in Weigel Auditorium.
Saturday, March 25
9:30 a.m.-3 p.m.
Jazz Workshops at Steinbrenner Band Center, Ohio Stadium. The former Ohio State Jazz Specialty Days have combined into one exciting day of workshops covering improvisation, section playing, intonation, instrument maintenance and more. Registration is required for student participants and for band directors who wish to attend as observers (see Jazz Workshops for details).
Saturday, 3:30-6 p.m.
College Jazz Band Day. Performances including Ohio State bands and combos.
Saturday, 8 p.m.
HEADLINER CONCERT
Ohio State Jazz Ensemble with guest artist-in-residence Byron Stripling, trumpet. The Ohio State Jazz Ensemble welcomes Columbus' favorite jazz band leader, Byron Stripling, trumpet. Stripling will appear as both conductor and soloist for this special concert.
Collection of canned goods to benefit the MidOhio Food Bank will be taken at the door.
Sunday, March 26 - 10 a.m.-4 p.m.
High School Jazz Band Day. Ohio State Jazz Studies welcomes high school jazz bands of all levels to present short performances for comments and receive an individualized clinic from Ohio State faculty. Band directors are required to register each band or combo (see High School Jazz Band Day for details and the registration link).
Artist-in-residence Byron Stripling will be among the adjudicators and will provide brief coaching for each band (a list of participating bands and their performance times will be posted in mid-March). The day will conclude with a performance by an Ohio State jazz ensemble.
All performances are free and open to the public.