Wednesday, March 8, 2017 -

7:00pm

to

8:30pm
Monday, March 20, 2017 -

11:30am

to

12:25pm
Monday, March 20, 2017 -

7:00pm

to

8:30pm
Hughes Hall, 1899 College Rd.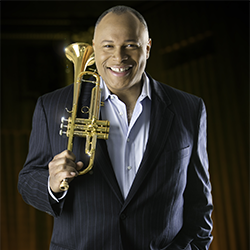 Columbus' favorite jazz band leader Byron Stripling, artist-in-residence and Jazz Festival headliner, will present three master classes:
1. Louis Armstrong and Dizzy Gillespie
Wed. March 8 • 7-8:30 p.m. • Hughes Rm. 109
2. Music Business
Mon. March 20 • 11:30 a.m.-12:25 p.m. • Hughes Aud.
Stripling presents a highly inspirational talk on the tools necessary to thrive as a musician in the 21st century. Stripling demonstrates the "Three Master Keys" to musical success and shows how to use them to experience music and life on the highest level. With passion, love and a touch of humor, Stripling will lead participants through an exercise that will establish a clear vision of who they want to be and what they need to do to get there.
3. The Birth of the Blues
Mon. March 20 • 7-8:30 p.m. • Hughes Rm. 109
All classes are free and open to the public.
---
During the upcoming 40th Annual Jazz Festival, a five-day celebration, Stripling is featured headliner artist and guest adjudicator:
March 25 HEADLINER concert, 8 p.m. Ohio State Jazz Ensemble with guest artist-in-residence Byron Stripling, trumpet. The Jazz Ensemble welcomes Stripling who will appear as both conductor and soloist for this special concert which is free and open to the public.
March 26 High School Jazz Band Day, 10 a.m.-4 p.m. Artist-in-residence Byron Stripling will be among the adjudicators and will provide brief coaching for each band. The day will conclude with a performance by an Ohio State jazz ensemble.