Sunday, March 25, 2018
10 a.m. – 4:30 p.m.
---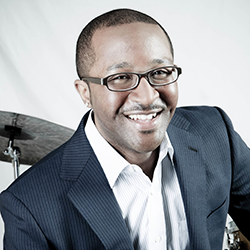 As part of the 41st Annual Ohio State Jazz Festival, high school jazz bands of all ability levels are invited to attend High School Jazz Band Day. Bands present a 15-minute performance in Weigel Hall Auditorium for adjudication by Jazz Studies faculty and festival artist-in-residence Quincy Davis. Davis will also provide onstage coaching for each band. Additionally, groups will receive a private clinic following their performance.
The tentative schedule for the day features high school bands playing from 10 a.m. - 4 p.m. Band directors, students and parents are invited to stay for the day to listen to performances of the all school bands.
Make plans to have dinner on campus, then return for the announcement of High School Day awards and recognitions followed by the Jazz Festival closing concert featuring The Ohio State University Jazz Ensemble full concert at 6 p.m., featuring alumnus Ladd McIntosh.
Recognition awards will include outstanding soloists from each school, and scholarships to attend the 2018 Ohio State Jazz Camp will be awarded to two top soloists of the day.
Band directors must register online via link to be provided in spring semester.
All are invited to attend the various events of the 41st Annual Jazz Festival, March 21–25, 2018. All performances are FREE and open to the public, with the exception of the Saturday evening headline concert, "Charlie Parker with Strings."
---
Eligibility and Fees
High school jazz bands of all ability levels are welcome.
$150 per combo (up to 9 people)
$200 per big band (10 or more people)
---
Registration
The registration procedure consists of two steps:
Step One—Band director completes an online registration via link to be provided in spring semester.
After submitting the online registration, you will immediately receive a confirmation email. If you do not receive it, one of three things has happened:
The email address you entered on your form may be incorrect
The confirmation email was sent to your SPAM box
The online registration was not received by our system
If you do not receive the confirmation email within two hours of submitting a registration, contact the High School Jazz Band Day registrar for further instructions.
Step Two—Payment. Pay the participation fee online according to the instructions contained in your registration confirmation email. You will then receive an email confirming your online payment.
If you choose to pay with a check or money order (made payable to "The Ohio State University"), mail payment to the School of Music at the address below. Please print the name of the high school on the Memo line of the check. You will receive confirmation by email within 7 – 10 business days.
Mail to:
The Ohio State University School of Music
ATTN: High School Jazz Band Day Registrar—Michael Smith
110 Weigel Hall
1866 College Rd.
Columbus, OH 43210
---
Attendance Details
Shortly after the registration deadline, directors will receive a Welcome Packet detailing attendance on March 25. Instructions will include drop-off/pickup instructions, bus and car parking, instrument storage, places to eat, and the event schedule.
Instruments and Equipment
What we provide:
The School of Music will provide the following equipment:
Drum set and cymbals
Bass and guitar amplifiers
Piano
If you need additional equipment, please contact the registrar, Mike Smith. We will do our best to accommodate your needs.
Remember to bring:
In addition to all instruments and equipment not listed above, please remember to bring:
Drum sticks
Bass and guitar patch cords
NOTE: do not bring saxophone fronts
---
Visit the School of Music
---
Contact
---
[pdf]—Some files on this page contain links to .pdf files requiring Adobe Reader. If you need them in a more accessible format, contact us.