Saturday, April 7, 2018
Steinbrenner Band Center at Ohio Stadium | 9 a.m. – 3 p.m.
---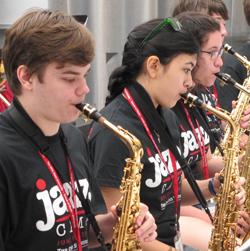 High school musicians are invited to enjoy an exciting day of workshops covering improvisation, section playing, tuning, intonation, instrument maintenance and more — all held in the Marching Band facility in Ohio Stadium.
Participants will work with the Jazz Studies faculty:
Woodwinds (all saxophones, flute, clarinet) — Shawn Wallace, director of Jazz Studies
Brass — Anthony Stanco, trumpet; Jim Masters, trombone
Rhythm section — Dave Powers, piano; Kevin Turner, guitar; Andy Woodson, bass; Jim Rupp, drums
---
Eligibility: For musicians in grades 8 – 12. Registration is required.
Fee: $30 (includes lunch).
Lunch: Pizza and beverages will be provided.
Check-in: 9 – 9:30 a.m. at Ohio Stadium Band Center, Gate TBA.
What to bring: your instrument, paper/notebook, pencil and a flash drive. Drummers should also bring your stick bag. Guitarists and bassists do not need to bring an amp, but should bring your own cord.
---
Registration Procedures
Deadline: Monday, March 26
Online registration is required for all attendees. The registration procedure consists of the following:
Step One—Registration. Complete the online registration form via link to be provided in spring semester.
After submitting an online registration, you will immediately receive a confirmation email. If you do not receive it, one of three things has happened:
The email address you entered on your form may be incorrect
The confirmation email was sent to your SPAM box
The online registration was not received by our system
If you do not receive the confirmation email within two hours of submitting a registration, contact the Jazz Workshops registrar for further instructions.
Step Two—Payment. Pay the participation fee online according to the instructions contained in your registration confirmation email. You will then receive an email confirming your online payment.
If you choose to pay with a check or money order (made payable to "The Ohio State University"), mail payment to the School of Music at the address below. You will receive confirmation by email within 7 – 10 business days.
Mail to:
The Ohio State University School of Music
ATTN: Jazz Workshops Registrar
110 Weigel Hall
1866 College Rd.
Columbus, OH 43210
Step Three — Required forms. Parents or guardians are required to print out, complete, sign and submit the following forms. These forms must be received by Wednesday, April 4. You may scan and email the completed signed forms to the Jazz Workshops registrar.
Mail to:
The Ohio State University School of Music
ATTN: Jazz Workshops Registrar
110 Weigel Hall
1866 College Rd.
Columbus, OH 43210
Contacts
---
[pdf]—Some files on this page contain links to .pdf files requiring Adobe Reader. If you need them in a more accessible format, contact us.