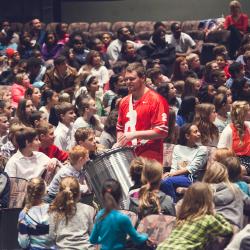 The School of Music will offer three opportunities for school groups and retirement communities to experience daytime concerts on campus during the 2019–2020 school year.

Each concert offers a rvariety of learning outcomes for students and their teachers, while they enjoy the talents and artistry of both undergraduate and graduate Buckeyes seeking music degrees. Retirement community residents can enjoy these wonderful concert offerings during convenient daytime hours.

Plan ahead. These concerts often sell out before the registration deadline. Visit each event page for details.


The Ohio State Marching Band Youth Concert
Featuring demonstrations of instruments, performances by special "cheer groups," and selections from the season's halftime shows, including traditional school songs. For groups of all ages.

Friday, November 1, 2019 • 10 a.m. – 12 p.m.
Mershon Auditorium
$8/seat • Bus parking is free
Online registration is open

The Music Celebration Concert
Featuring School of Music bands, choirs, orchestras, jazz, solo artists and more — all presented in a non-stop collage style concert. For groups in grades 4 and above.

Tuesday, December 3, 2019 • 10 a.m. – 12 p.m.
Mershon Auditorium
$5/seat • Bus parking is free
This concert is SOLD OUT.

Stephen Sondheim's Into The Woods
Stephen Sondheim and James Lapine's cockeyed fairytale mashup features all your favorite characters — Cinderella, Little Red Riding Hood, Jack and his beanstalk — in a modern take on classic Brothers Grimm fables.
Experience a 90-minute, one-act version of this fully-staged modern musical presented by Ohio State's Opera & Lyric Theatre, accompanied by the Ohio State Opera & Lyric Theatre Chamber Orchestra. For groups in grades 4 and above.

Friday, March 27, 2020 • 10:30 a.m. – 12 p.m.
Mershon Auditorium
$5/seat • Bus parking is free
---
The Ohio State School of Music values its educational mission to educate, enrich, and instill a lifelong love of music in future generations of musicians.

Visit music.osu.edu to learn more about these and many other outreach opportunities for young musicians, including instrument specialty days, prospective student visit days and The Ohio State Youth Summer Music Programs.