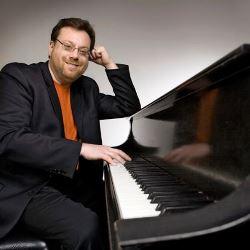 Jazz Pianist's Music Lives On
The School of Music community is saddened by the loss of friend and colleague Mark Flugge, who died on May 11 after a two-year battle with a debilitating hearing condition.
"We are still reeling from the news of Mark's untimely death," stated Ted McDaniel, professor and jazz studies area head. "My memories of Mark go back to his days when he was an undergraduate jazz studies major at Ohio State, enrolled in my jazz history course. I recall him being rather serious-minded and remember a challenging piano jury he took under Hank Marr. After that jury he seemed to grow musically and developed rapidly as a jazz pianist. When he completed his master's at Eastman and returned to Columbus, I eventually recommended him for the jazz piano position at Ohio State when an opening occurred. Mark was a terrific performer and excellent teacher. He pushed his students and set the bar high for them to achieve. My faculty colleagues and I were witness to the growth of Mark's students under his tutelage. In addition to having a breadth of understanding of the styles of leading jazz pianists, Mark dug more deeply into the styling of a few and was successful in sharing his knowledge of their general styles, sounds, voicings, and rhythms. I fondly remember his interpretations of Thelonious Monk and Horace Silver, in particular. While Mark was an outstanding performer who was popular and well-respected by others, he was a friend to many. We will certainly miss Mark, the good person who was as generous with his friendship as he was with his music."

In honor of Mark and his music, the chimes at Trinity Episcopal Church will play his six-minute composition Faith at 12:02 p.m. daily through June 11. The work premiered in July 2012 as part of the public art project, Finding Time: ColumbusPublicArt2012. The project commissioned Flugge and other musicians in various genres to write new works for the chimes at the downtown church at East Broad and Third Streets. The chimes are played by carillonneur Nick Tepe.
Ohio State colleague Jim Rupp shared, "Mark Flugge was the consummate musician. I had worked with him for over 35 years in all types of settings, and the loss to his family and friends - as well as the musical community - is devastating. It didn't matter if he was playing a concerto with an orchestra, a jazz trio gig, or laying background tracks for a pop record; he did everything with such a focus on the music, and such taste. As if his performing wasn't enough, he was an incredible composer and teacher. His focus and devotion to music certainly served as a model and inspiration to me and many others. He was a kind, gentle, and gracious friend and family man, and he has left a big hole in the hearts of many. He will be sorely missed."

A celebration of the life and work of Mark Flugge will take place at Capital University on Sunday, June 15;. The event is free and open to the public. Details in the Columbus Dispatch article:
http://www.dispatch.com/content/stories/life_and_entertainment/2014/05/30/1aa-showtell30-art-glrslbme-1.html
---
Mark Flugge's Obituary in The Columbus Dispatch

Mark Flugge: BroadwayWorld.com

(Photo by John Lubinsky)