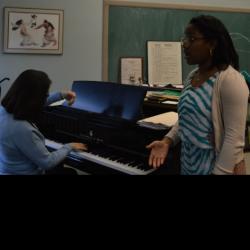 Daina Robinson has had a passion for singing for almost as long as she has been alive. She was humming before she ever learned to speak, and she says she considers music a God-given gift. While she is an international studies major, she minors in music and will be the soprano soloist for Beethoven's Mass in C at the School of Music's February 5 concert.

"To me, singing is kind of like speaking," Robinson said. "The faculty here has been so supportive of my passion. They love what they do, and it's contagious."

It was an adjustment for her to begin participating in Ohio State's rigorous music program, but she says she has had the opportunity to work with some incredible faculty. She says she is grateful to Professor Loretta Robinson (area head for voice), Associate Professor Robert Ward (director of choral studies) and Professor Scott McCoy (voice and pedagogy) for their holistic musicianship, and she says she is especially thankful to Associate Professor Kristina Caswell MacMullen (assistant director of choral studies), who has been very supportive of her.
Read the entire article at Arts and Sciences News. Article by Tatiana Tomley, ASC Communications student. Photo courtesy of Anna Oberla, undergraduate student.